Microsoft 70-410 Tests
Exam: Installing and Configuring Windows Server 2012
Free 70-410 Exam Questions in VCE Format

File
Votes
Size
Last comment
11
7.29 MB
Oct 17, 2019
37
6.9 MB
Aug 25, 2019
7
6.4 MB
Dec 04, 2018
23
6.4 MB
Dec 12, 2018
3
9.98 MB
25
10.25 MB
Dec 24, 2019
5
5.14 MB
May 06, 2017
11
6.25 MB
Jun 12, 2018
35
6.63 MB
Sep 26, 2018
8
8.09 MB
Feb 19, 2016
4
6.86 MB
Jan 15, 2016
5
7.49 MB
Dec 16, 2015
3
6.88 MB
Nov 23, 2015
9
19.15 MB
Dec 28, 2015
7
13.83 MB
Oct 27, 2015
6
6.64 MB
Oct 15, 2015
4
13.66 MB
Oct 06, 2015
22
8.13 MB
Sep 29, 2015
24
148.72 KB
Feb 23, 2017
22
8 MB
Oct 27, 2015
354
8 MB
Dec 24, 2019
30
8 MB
Nov 04, 2015
23
8 MB
May 19, 2016
3
8 MB
Feb 25, 2015
19
1.68 MB
Feb 21, 2015
13
8 MB
Feb 24, 2015
31
7.61 MB
Jun 16, 2015
54
8 MB
Nov 30, 2016
29
8 MB
Mar 11, 2015
35
5.34 MB
Nov 25, 2016
36
5.34 MB
Oct 23, 2015
48
5.32 MB
Feb 02, 2015
19
704.67 KB
Sep 12, 2014
32
8 MB
Sep 23, 2014
22
8 MB
Mar 04, 2015
27
702.25 KB
Nov 10, 2014
2852
5.38 MB
Dec 24, 2019
22
8 MB
Oct 17, 2014
44
8 MB
Jan 13, 2015
26
1.49 MB
May 21, 2014
19
8 MB
Jun 16, 2014
22
8 MB
May 30, 2014
26
8 MB
May 15, 2014
193
8 MB
Dec 01, 2019
32
1.49 MB
May 16, 2017
21
8 MB
Jun 26, 2014
55
8 MB
Aug 31, 2015
24
157.14 KB
Mar 21, 2014
12
825.33 KB
Mar 11, 2014
48
4.33 MB
Apr 24, 2014
27
8 MB
Mar 23, 2014
39
8 MB
Apr 24, 2014
22
7.17 MB
Mar 07, 2014
34
7.17 MB
Mar 03, 2014
279
7.17 MB
May 19, 2016
29
17.67 MB
Apr 12, 2014
29
17.59 MB
Mar 15, 2014
251
29.32 MB
Oct 25, 2015

Archived VCE files

| File | Votes | Size | Last comment |
| --- | --- | --- | --- |
| | 46 | 8 MB | Sep 02, 2015 |
| | 26 | 8 MB | Feb 23, 2015 |
| | 11 | 8 MB | Jan 22, 2015 |
| | 2 | 8 MB | Dec 21, 2014 |
| | 2 | 237.48 KB | Dec 16, 2014 |
| | 14 | 7.54 MB | Feb 19, 2015 |
| | 46 | 7.51 MB | May 23, 2015 |
| | 41 | 8 MB | Feb 17, 2015 |
| | 14 | 7.61 MB | Dec 30, 2014 |
| | 6 | 8 MB | Feb 16, 2015 |
| | 4 | 5.32 MB | Jun 30, 2015 |
| | 8 | 5.34 MB | Nov 13, 2014 |
| | 2 | 7.61 MB | Nov 12, 2014 |
| | 7 | 5.32 MB | Nov 08, 2014 |
| | 9 | 8 MB | Nov 08, 2014 |
| | 9 | 8 MB | Nov 15, 2014 |
| | 2 | 3.26 MB | Oct 18, 2014 |
| | 2 | 3.32 MB | Oct 06, 2014 |
| | 8 | 466.44 KB | Sep 25, 2014 |
| | 16 | 5.32 MB | Sep 24, 2014 |
| | 9 | 466.44 KB | Sep 22, 2014 |
| | 7 | 5.32 MB | Sep 30, 2014 |
| | 8 | 633.65 KB | Sep 19, 2014 |
| | 6 | 246.64 KB | Sep 05, 2014 |
| | 11 | 246.64 KB | Sep 22, 2014 |
| | 10 | 704.63 KB | Aug 23, 2014 |
| | 3 | 238.26 KB | Aug 21, 2014 |
| | 8 | 8 MB | Aug 28, 2014 |
| | 4 | 218.15 KB | Aug 21, 2014 |
| | 16 | 538.53 KB | Aug 21, 2014 |
| | 6 | 1.49 MB | Aug 05, 2014 |
| | 18 | 8 MB | Aug 09, 2014 |
| | 9 | 8 MB | Jul 02, 2014 |
| | 5 | 157.14 KB | Aug 07, 2014 |
| | 13 | 8 MB | May 23, 2014 |
| | 5 | 470.98 KB | May 26, 2014 |
| | 20 | 8 MB | May 23, 2014 |
| | 6 | 1.49 MB | May 19, 2014 |
| | 8 | 1.73 MB | Jun 04, 2014 |
| | 2 | 167.29 KB | Jun 28, 2014 |
| | 11 | 8 MB | May 03, 2014 |
| | 7 | 764.29 KB | Apr 30, 2014 |
| | 18 | 1.49 MB | Apr 29, 2014 |
| | 12 | 1.49 MB | Apr 24, 2014 |
| | 10 | 1.49 MB | May 06, 2014 |
| | 12 | 8 MB | Apr 03, 2014 |
| | 8 | 8 MB | Apr 26, 2014 |
| | 17 | 8 MB | Mar 25, 2014 |
| | 5 | 682.22 KB | Mar 15, 2014 |
| | 3 | 8 MB | Mar 16, 2014 |
| | 3 | 8 MB | Mar 16, 2014 |
| | 1 | 775.93 KB | Mar 13, 2014 |
| | 10 | 113.58 KB | Mar 11, 2014 |
| | 14 | 113.34 KB | Mar 03, 2014 |
| | 7 | 113.58 KB | Feb 21, 2014 |
| | 15 | 113.58 KB | Mar 10, 2014 |
| | 20 | 7.17 MB | Mar 21, 2014 |
| | 11 | 2.55 MB | Jan 19, 2014 |
| | 70 | 8 MB | Sep 10, 2014 |
| | 11 | 8 MB | Jan 30, 2014 |
| | 3 | 4.25 MB | Jan 10, 2014 |
| | 13 | 7.17 MB | Apr 10, 2014 |
| | 5 | 7.17 MB | Apr 14, 2014 |
| | 19 | 7.17 MB | Feb 26, 2014 |
| | 8 | 8 MB | Jan 06, 2014 |
| | 10 | 1.77 MB | Dec 31, 2013 |
| | 2 | 1.78 MB | Dec 30, 2013 |
| | 11 | 7.17 MB | May 27, 2014 |
| | 5 | 8 MB | Feb 19, 2014 |
| | 10 | 8 MB | Jan 16, 2014 |
| | 13 | 5.98 MB | Dec 20, 2013 |
| | 7 | 3.44 MB | Dec 20, 2013 |
| | 7 | 5.4 MB | Dec 05, 2013 |
| | 25 | 2.91 MB | Nov 26, 2013 |
| | 7 | 5.4 MB | Nov 26, 2013 |
| | 2 | 666.93 KB | Nov 04, 2013 |
| | 3 | 2.13 MB | Nov 04, 2013 |
| | 22 | 5.4 MB | Dec 10, 2013 |
| | 7 | 2.97 MB | Nov 28, 2013 |
| | 5 | 114.39 KB | Nov 19, 2014 |
| | 6 | 19.26 MB | Oct 28, 2013 |
| | 2 | 243.59 KB | Oct 11, 2013 |
| | 2 | 10.7 MB | Nov 03, 2013 |
| | 11 | 34.25 MB | Oct 29, 2013 |
| | 4 | 3.91 MB | Sep 30, 2013 |
| | 3 | 29.33 MB | Nov 30, 2013 |
| | 2 | 10.23 MB | Sep 26, 2013 |
| | 14 | 34.21 MB | Jul 27, 2014 |
| | 6 | 34.2 MB | Mar 26, 2015 |
| | 10 | 17.59 MB | Oct 11, 2013 |
| | 3 | 24.58 MB | Oct 14, 2013 |
| | 6 | 28.84 MB | Sep 26, 2013 |
| | 6 | 10.24 MB | Sep 16, 2013 |
| | 23 | 10.24 MB | Oct 05, 2013 |
| | 11 | 10.24 MB | Aug 28, 2013 |
| | 16 | 7.94 MB | Oct 11, 2018 |
| | 12 | 3.4 MB | Sep 28, 2013 |
| | 18 | 10.3 MB | Jan 01, 2014 |
| | 2 | 10.26 MB | Sep 30, 2013 |
| | 2 | 6.93 MB | Feb 06, 2015 |
| | 2 | 22.48 MB | Oct 14, 2013 |
| | 1 | 16.04 MB | Jul 06, 2013 |
| | 1 | 10.15 MB | May 17, 2014 |
| | 1 | 11.01 MB | Jul 02, 2013 |
| | 1 | 10.15 MB | Jul 25, 2013 |
| | 2 | 3.89 MB | Jun 02, 2013 |
| | 2 | 6.56 MB | Jun 14, 2013 |
| | 2 | 10.16 MB | Jun 25, 2013 |
| | 2 | 6.56 MB | Jun 11, 2013 |
| | 2 | 6.84 MB | Jun 19, 2013 |
| | 1 | 8.93 MB | May 25, 2013 |
| | 2 | 10.16 MB | May 22, 2013 |
| | 5 | 10.16 MB | Sep 16, 2013 |
| | 2 | 9.2 MB | May 18, 2013 |
| | 1 | 3.89 MB | May 08, 2013 |
| | 1 | 7.98 MB | May 17, 2013 |
| | 1 | 7.92 MB | May 08, 2013 |
| | 11 | 7.92 MB | Feb 07, 2017 |
| | 1 | 3.24 MB | Apr 15, 2013 |
| | 1 | 118.32 KB | Jan 13, 2014 |
| | 2 | 3.16 MB | Jan 08, 2014 |
| | 2 | 3.23 MB | Apr 29, 2013 |
| | 3 | 3.24 MB | Feb 12, 2016 |
| | 1 | 3.2 MB | Apr 03, 2013 |
| | 1 | 3.21 MB | Apr 25, 2013 |
| | 1 | 2.64 MB | May 01, 2013 |
| | 1 | 1.65 MB | Feb 26, 2013 |
| | 3 | 2.76 MB | Apr 28, 2013 |
| | 1 | 2.52 MB | Feb 18, 2013 |
| | 1 | 94.47 KB | Feb 07, 2013 |
| | 2 | 51.88 KB | Jan 21, 2013 |
| | 1 | 2.52 MB | Jan 30, 2013 |
| | 2 | 2.52 MB | May 30, 2013 |
| | 3 | 2.52 MB | Feb 02, 2016 |
| | 1 | 2.42 MB | May 15, 2013 |
| | 1 | 2.42 MB | Dec 04, 2012 |
| | 4 | 1.06 MB | Jan 05, 2013 |
| | 2 | 2.41 MB | Apr 21, 2014 |
| | 1 | 1.06 MB | Dec 06, 2012 |
| | 2 | 1.06 MB | Nov 21, 2012 |

Comments
* The most recent comments are on top.
* Please post your comments about 70-410 Microsoft Exam. Don't share your email address asking for Microsoft 70-410 dumps or 70-410 pdf files.
---
Naveed
I have appeared in Exam 70-410 on 22.12.2018
my suggestion is if you just remember all 188 questions from the following file you will get success. Few new questions were also there about Azure etc but this file is really good.
Microsoft.Actualtests.70-410.v2014-06-02.by.KATHLEEN.Updated.210q.vce
---
Vlad
Hi, guys! Just passed my 70-410 today. There was a few questions, that do not present in the dumps I used. I studied from every dump with date 2018, and one from 2017(Annette). Passed with 9xx points. Wish u all good luck!
---
nati
hi guys..what do you suggest to do those days? MCSA 2012 or 2016?. are the most voted files are reliable for giving the same questions?
and,by the way, do Microsoft still change the question in 2012?..
---
Wissam
Hyiiiii gyus wich dump is avalid today???
---
Ayo
United States
Sep 11, 2018
Can anyone help me with the best VCE file for the 70-410 exam? pleaseee
---
Anonymous
Saudi Arabia
Aug 01, 2018
The premium dumps are valid. No doubt that you will pass the exam! Best of Luck
---
Rachel
@yvonne chakachaka i do actually i have a collectionof 70-41s0 exam questions and answers
---
yvone chakachaka
hi anybody with 70-410 practice exams
kindly help.
---
kelly354
United States
Jun 19, 2018
@ linda exam 70-410 is not that difficult especially for nps. the trick i used for nps was through studies and always attempting to lab out the learnt concept. this helped me score more in that area.
---
HLY
@ nichola cage yes as per me i did have labsin lab. tried making a lab on my pc which i tried seting through a roter to be accessed remotely. this took too much of my time and i had to stop. my advice is that if you are interested in making a lab have your checklist to guide you.
for the practice test, i used 70-410 exam questions on this site.
---
Lindah
hey people i am preparing for 70-410 exams but the last topic on nps stuff is giving me problems. how i wish the concept was as easy as that of wsus and wds. any idea on how best i can go over this?
---
Nicholas Cage
Saudi Arabia
Jun 19, 2018
hi people please help me out. for those who have 70-410 was there any practice test that you did ? again, were you building a home lab are it was all about the testourt lab?
---
alicia keys
comparing with 411 and 410, i found that 70-410 exam was more difficult. i think i also dint have enough time to study for it. that is the time that my part time job was upgraded to be a full-time job. trying to balance my job and my studies was a bit hectic as i was to prove to my employer that i can manage a full-time job. all in all i passed the exams.


Microsoft MCSA 70-410 Installing and Configuring Windows Server 2012 exam dumps & updated practice test questions to study and pass quickly and easily.
100% Free Real MCSA Microsoft 70-410 Installing and Configuring Windows Server 2012 practice test questions uploaded by real users who have passed their own exam and verified all the incorrect answers.
Microsoft MCSA 70-410 Installing and Configuring Windows Server 2012 practice exam dumps & training courses in VCE format in order to pass the exam.
You need Avanset VCE Exam Simulator in order to study the Microsoft MCSA 70-410 exam dumps & practice test questions.

How to Open VCE Files
Use VCE Exam Simulator to open VCE files.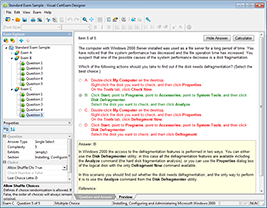 70-410 Training Products
70-410 Premium File
523 Questions & Answers

Instant Download

$69.99
70-410 Training Course
103 Video Lectures

Watch Online

$24.99
70-410 Study Guide
723 PDF pages

Instant Download

$24.99
70-410 Audio Guide
83 MP3 minutes

Instant Download

$24.99