PMI PMP Tests
Certification: PMP
Certification Full Name: Project Management Professional
PMP Exam Screenshots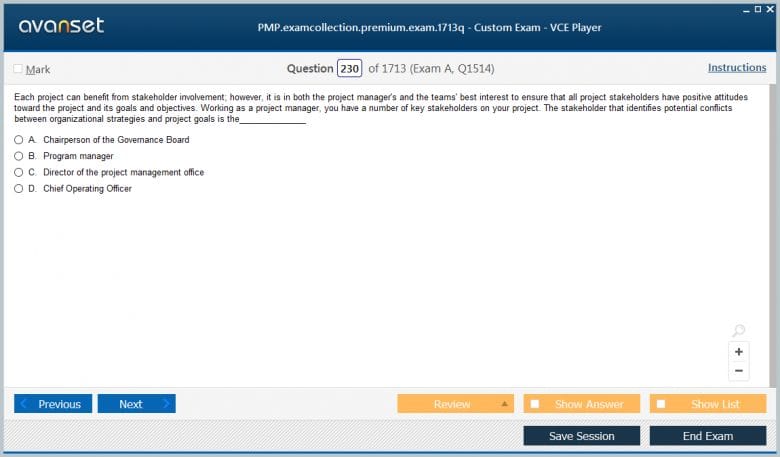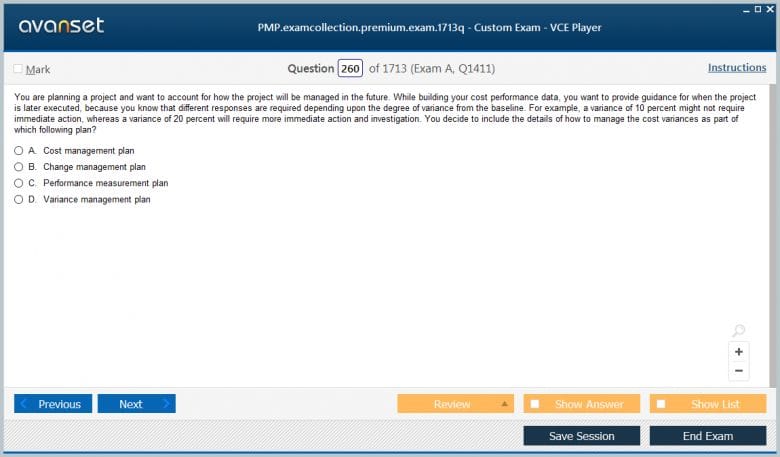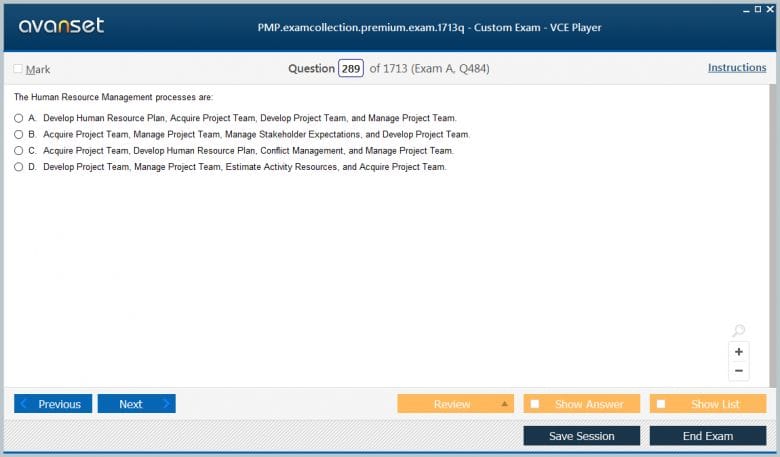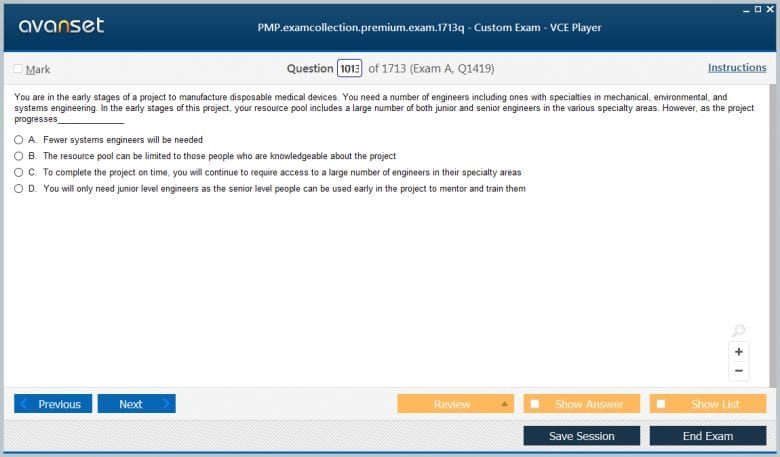 PMP VCE Files

| Exam | Title | Files |
| --- | --- | --- |
| PMP | Project Management Professional | 22 |

Comments
* The most recent comments are on top.
---
Mayer
I used this dump and it had mock pmp questions 2018. Since it was 2018 I thought this was current questions so thoroughly revised the questions. On the day of exams the questions were quite different and I failed. Please help me get good resources as I want to retake the exams.
---
Sam
@jarod yes the pmp questions has solutions for the questions. But I advise that you first go through the dumbs then u try the questions on you own to see if u have understood the concept. Thereafter, you can check the answers.
---
Sergey
South Africa
Jun 15, 2018
do you have pmp questions of 2018 year?
Which topis does your study guide cover?
---
Ranjit
Hi everyone. Been training a group of people on pmp can somebody confirm to me if they offer group pmp exams?
---
Jarod
@ ian I am also interested in what you have. I hope it has pmp exam questions and answers. It is easier to have both the questions and answers as it help you know the answer that you are expected to give.
---
Ian
@jeevsstevenpin hi I have some mock pmp practice exams 2018 in my inbox kindly let me have your email address I send them to you. They mock exams realy helped me a lot since almost all questions that were there in exam could be tackled easily.
---
Beyonce
Somebody please share latest pmp practice exams
---
Jeevsteveipin
South Africa
May 21, 2018
Hi good people I am looking for good resource to help train a group of people. Pleas help me get different pmp exams questions and answers.


PMP Certification Facts
Project Management Institute (PMI) is an organization that offers accreditations to project management professionals. It is also involved in research, determination, and publication of standards with regards to project management. Project Management Professional (PMP) certification is one of the accreditations offered by PMI.

PMI PMP certification is designed for professionals who have demonstrated their expertise in the following areas:
- performing general project related tasks under supervision
- leading and directing teams in ensuring that projects are completed within the timelines and within the determined budgetary projections
- applying the correct methodologies in delivering projects with regards to properly defined project requirements.

To qualify for this certification, a candidate must first meet any of the prerequisites below:
- Be a holder of a secondary degree
- 7500 hours of leading as well as directing team projects
- A total of 35 hours of studying project management
Or
- Be a holder of a 4-year degree
- 4500 hours of leading as well as directing team projects
- 35 hours of studying project management.

Once you meet the above requirements, the next step is to register and schedule your PMP exam by following this certification process. Other details for this exam are available in the PMP Certification Handbook. PMP exam comprises 200 multiple-choice questions and an allocated time of 4 hours. 175 of these questions will be used to give you a score, while the other 25 are included for statistical purposes only. The last published exam score was done in 2005 and it was at 61%. As it is now, PMI no longer discloses its exams' passing scores. The cost of this exam is $405 for PMI members and $555 for non-members.

Before sitting for PMI PMP exam, it is important that a candidate thoroughly prepares for it. The preparation process involves understanding the exam objectives, enrolling in a live online training course, and using other resources. It is also recommended that a candidate goes through and understands the exam outline and PMP Body of Knowledge (PMPBOK) because the exams are based on these guidelines.

Passing PMI PMP exam qualifies you for a PMI PMP certification that is valid for three years. To maintain it, you must earn 60 PDUs (Professional Development Units) every three years. This certification leads you to a number of job roles like PMP Certified Program Manager, Program Coordinator, Quality Assurance Specialist, Project Lead Technology Manager and Program Manager.

PMI PMP certification is considered to be among the top ten certifications around the world. Professionals with this certification can expect salaries that are 20% higher than the salaries for those without PMP certification. These professionals can also work in any industry all around the world. PMI PMP certification also has immense advantages for employers. Having individuals in the company who can lead and direct projects means timely project delivery within the strict budget requirements. All this has resulted in the popularity of PMI PMP certification. More and more people are pursuing this certification. PMI has surely produced experts who are capable of organizing, running and delivering quality projects.



How to Open VCE Files
Use VCE Exam Simulator to open VCE files.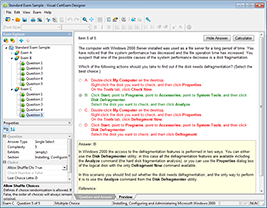 PMI PMP Training Courses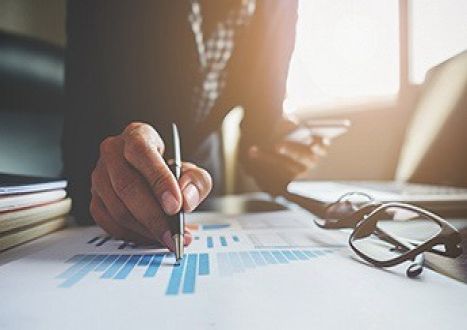 PMP: Project Management Professional