Microsoft AZ-900 Tests
Exam: Microsoft Azure Fundamentals
Free AZ-900 Exam Questions in VCE Format

File
Votes
Size
Last comment
3
401.87 KB
Jun 05, 2019
4
99.73 KB
May 16, 2019
7
31.78 KB
Apr 18, 2019

Comments
* The most recent comments are on top.
* Please post your comments about AZ-900 Microsoft Exam. Don't share your email address asking for Microsoft AZ-900 dumps or AZ-900 pdf files.
---
nexgen
is this Microsoft.Braindumps.AZ-900.v2019-05-23.by.Francesco.62q.vce STILL VALID ???
---
angelo dixon
United States
Jun 14, 2019
Pass today 805 Prem is always valid.
---
Johnny
South Africa
Jun 10, 2019
Premium file still valid with about 3 new questions IIRC
---
Kelly
Premium file is valid, even tho the newest file is not required. Passed the exam with 900 points and the questions were the same as on the older premium files. Only had 3 new questions, but nothing you can't handle if you study!
---
Diego
Premium valid. Passed today with 835
---
Member
Premium still valid with a few additional questions creeping in. 44 questions, 90 minutes.
---
123
United Kingdom
May 13, 2019
Premium is valid, but there are some new questions in exam (about 12/44), but nothing from "rocket science". Passed 900 points
---
azmarter
United States
May 11, 2019
premium is valid in USA, I passed with +800
---
nullable
Premium file is valid. Some new questions in the exam.
---
Sattar
Premium is valid, passed with 808
---
Psycho
Hello, did anyone used the premium dump? Is it valid? , At what percentage?. Thanks
---
Steve
United States
Apr 12, 2019
Passed the exam on April 12, 2019. The premium dump is valid but not all questions from exam are there.
---
Kris
Hi
did the exam on 5-04-2019, part of the questions came from this, i say it is valid.
---
Psycho
Is the Premium Dump Valid?, Has anyone used it? Thanks
---
Examcollection
United Kingdom
Mar 06, 2019
@joseph,
We checked the file, it isn't encrypted or corrupted, format is valid. We recommend using of VCE Exam Simulator to play VCE files properly https://www.avanset.com/products.html
If you already use this VCE Exam Simulator, please, update it to the newest version. Maybe, the file was created in the newer version than you have. If it does not help we advise you to contact the support of your player.
---
joseph
Can't open Premium file
---
torombolo
only 19 questions?
---
Joep
Is the Premium valid?
---


Microsoft AZ-900 Microsoft Azure Fundamentals exam dumps & updated practice test questions to study and pass quickly and easily.
100% Free Real Microsoft AZ-900 Microsoft Azure Fundamentals practice test questions uploaded by real users who have passed their own exam and verified all the incorrect answers.
Microsoft AZ-900 Microsoft Azure Fundamentals practice exam dumps & training courses in VCE format in order to pass the exam.
You need Avanset VCE Exam Simulator in order to study the Microsoft AZ-900 exam dumps & practice test questions.

How to Open VCE Files
Use VCE Exam Simulator to open VCE files.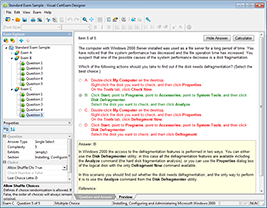 AZ-900 Training Products
AZ-900 Premium File
137 Questions & Answers

Instant Download

$69.99
AZ-900 Study Guide
251 PDF pages

Instant Download

$69.99