CompTIA CompTIA Security+ Tests
Certification: CompTIA Security+
Certification Full Name: CompTIA Security+
CompTIA Security+ Exam Screenshots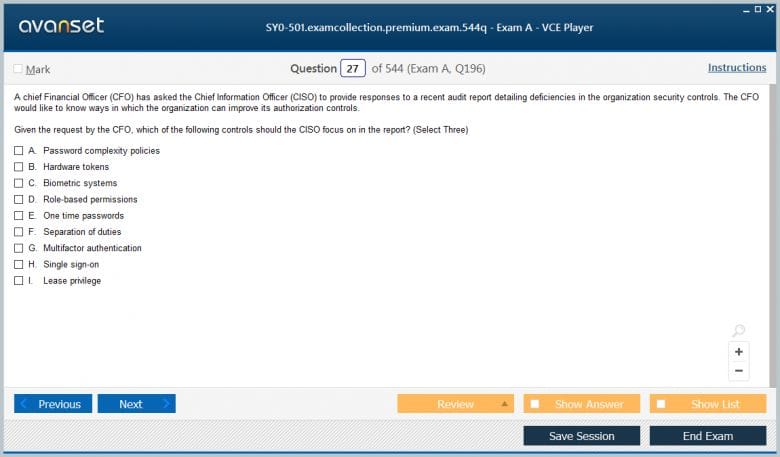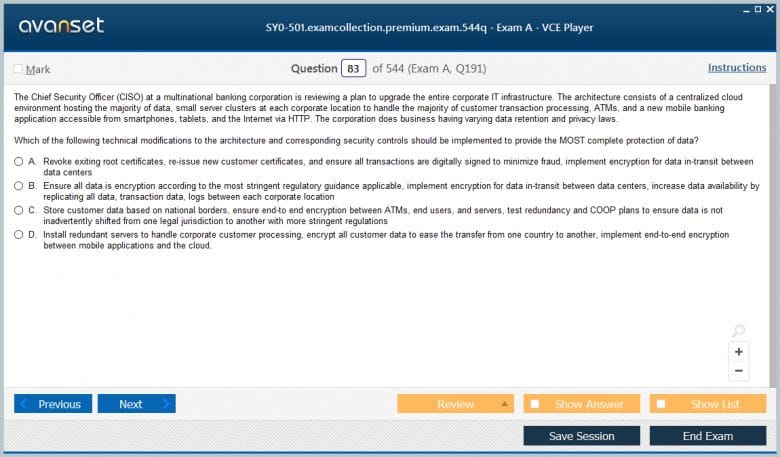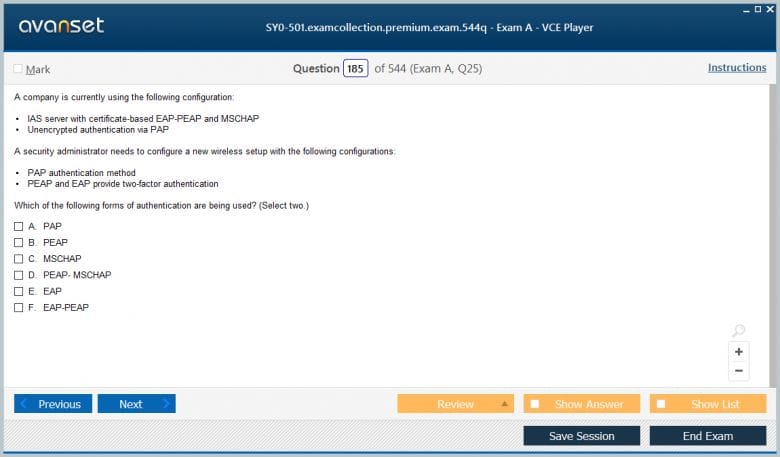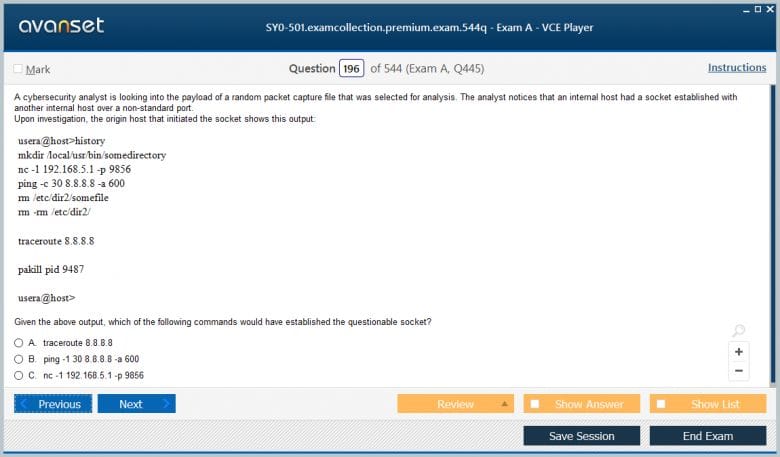 CompTIA Security+ VCE Files

| Exam | Title | Files |
| --- | --- | --- |
| SY0-501 | CompTIA Security+ | 13 |

Comments
* The most recent comments are on top.
---
David
United States
Dec 07, 2019
Anyone taken security + and passed with premium lately?
---
Rana
United States
Nov 11, 2019
Did anyone pass the security + sy0-501 with the premium dumps
---
Salman
Saudi Arabia
Sep 11, 2019
any body have pass the exam during this dumps!!!
---
SULTAN
Saudi Arabia
Sep 04, 2019
I have scheduled the exam on Sep 15 and I need someone to tell me if it's valid
---
Tye
United States
Aug 06, 2019
Anyone use these dumps for the SYO-501 exam and pass recently? Thinking of testing within the next two weeks.
---
---
Thomas Moila
South Africa
Jun 01, 2019
Premium is valid
---
Nonkululeko Maluleke
South Africa
Mar 13, 2019
security+ exam valid questions
---
Abduljack
Saudi Arabia
Sep 02, 2018
Got 80% passing score using the Security+ premium dumps. Believe me it is still 100% valid.
---
maru
SY0-501 premium file has helped me pass the exam with flying colors.
---
Morris
United States
Jun 17, 2018
i just passed the sy0-401 practice exam. premium dump helped me a lot
---
sultan soleiman
Saudi Arabia
Jun 15, 2018
someone to share syo-401 comptia practice test
---
Betty
who has proved that sy0-401 practice tests are valid?
---
kyalo
United States
Jun 12, 2018
be carefull with free sy0-401 dumps. they are barely 50% valid. do not depend on them majorly
---
wamuyu
i passed the exam with 830 result. most quizzes come from sy0-401 questions and answers. cheer up.
---
Craig Walker
are security+ practice test valid to the extent to make me pass,,?
---
Joan
South Africa
Jun 03, 2018
i am taking exam tomorrow.any valid sy0-401 comptia security+ braindump.
---
Cecilia
anybody with the latest VCE reader to open sy0-401 dumps.,,,
---
Cath
hey comrades, is the sy0-401 comptia security+ practice test valid?
---
Austin Pokoleto
hi there, I failed sy0-401 and have scheduled for a retake next week. those who share can help us with some useful sy0-401 practice tests.
---
Paul
i am preparing for the syo-401 which is in 2 weeks time. anyone with the latest sy0-401 premium files can help me with
---
teddy
i just passed the sy0-501 exam. i read several sy0-501 dumps but absolutely nothing appeared in the exam. the dumps cover the actual exam topics but not the actual questions. i advise you to the certification guide in detail.
---
ian-09
some sy0-401 security+ practice exam are not downloadable…..can some share them here please,,
---
kanxe
@craig, they are valid. I have used several sy0-501 premium files and passed finally.
---
Tanner
United States
May 06, 2018
I have failed security +certification exam. However, I would not say SY0-401 comptia security+ dumps are invalid. You just need to do several test before you face the actual exam.
---
shaw
can somebody help me with security+ braindump ,….i can't wait the exam to demoralize…!


CompTIA Security+ Certification Facts
Founded in 1st January 1982, Computing Technology Industry Association (CompTIA) has remained focused on issuing quality IT certifications to professionals who wish to be at the forefront of offering IT-related solutions to businesses around the world. CompTIA Security+ is one of the leading certifications from CompTIA. CompTIA Security+ certification is designed for individuals who have successfully demonstrated their skills in performing functions that enhance system security. The work of these professionals is to identify and analyze any threats to systems and perform tasks that mitigate these threats. These tasks are undertaken in total compliance with the existing laws and regulations.

To qualify for CompTIA Security+ certification exam, a candidate must be a holder of CompTIA Network+ certification and should have two years of IT experience with a focus on security. Once the professionals meet these requirements, they can then schedule and pass exam SY0-501 which was launched 4th October 2017. The other exam is SY0-401 and its English version has been retired on 31st July 2018. SY0-501 exam comprises 90 multiple-choice questions which are usually performance-based. It has an allocated time of 90 minutes. A candidate must attain a passing score of 750/900 points. The cost of the exam is $300. There are a number of recommended courses and exam preparation materials that a candidate can use to prepare for their exam. Some of these resources are classroom training, prep tests, and guidebooks that are available online.

Passing SY0-501 exam qualifies you for CompTIA Security+ certification that is valid for 3 years. To renew this certification, a professional should meet certain requirements. Some of these requirements are completing a Certmaster CE course or collecting a minimum of 50 Continuing Education Units (CEU) in 3 years which must be uploaded to the holder's certification account for automatic renewal. In case a candidate fails the exam, there is a possibility provided for a retake. This retake policy offers guidance for the exam retake.

Attaining the highly popular CompTIA Security+ certification qualifies you for job roles like Systems Administrator, Network Engineer, IT Manager, IT Specialist, Computer/Network Systems Engineer and Information Security Analyst. The demand for this professions has continued to rise over the years. Individuals and employers understand the importance of this certification. This is because of the unique approach that CompTIA uses to prepare professionals for the real-world cybersecurity tasks. CompTIA Security+ lays emphasis on the practical ability to identify and address security threats and vulnerabilities to networking systems. Security+ is now a baseline for all jobs that are related to cybersecurity. Hence its rising popularity and demand.

Cybersecurity is obviously the most sensitive area of any networking system. Any compromise to systems security can end up in loss of data and even collapse of business systems. This is the area that must be handled by qualified experts who use only the correct measures and procedures. Through Security+ certification, CompTIA has been able to address these requirements in a big way.

How to Open VCE Files
Use VCE Exam Simulator to open VCE files.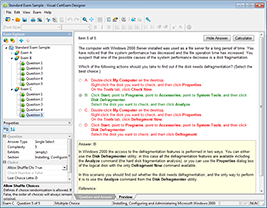 CompTIA CompTIA Security+ Training Courses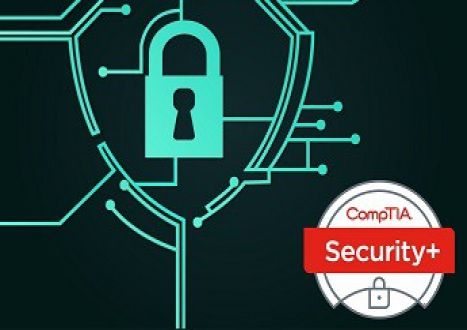 SY0-501: CompTIA Security+