Microsoft 70-461 Tests
Exam: MCSA Querying Microsoft SQL Server 2012/2014
Free 70-461 Exam Questions in VCE Format

File
Votes
Size
Last comment
8
6.77 MB
Jun 29, 2019
5
6.45 MB
Jun 04, 2019
5
8.22 MB
Jun 04, 2019
5
6.04 MB
Jul 20, 2018
6
4.44 MB
Jun 19, 2018
6
4.07 MB
Jul 10, 2015
56
3.5 MB
Nov 07, 2016
1
3.51 MB
Mar 05, 2015
11
3.38 MB
Nov 12, 2015
3
3.5 MB
Jul 27, 2015
1
3.49 MB
Mar 10, 2015
10
2.79 MB
Feb 12, 2015
2
2.79 MB
Jan 01, 2015
24
1.25 MB
Feb 12, 2015
9
2.5 MB
Feb 23, 2015
14
1.22 MB
Feb 07, 2015
25
610.04 KB
Dec 02, 2014
12
1.22 MB
Sep 05, 2014
11
2 MB
Oct 06, 2014
14
573.48 KB
Apr 28, 2014
11
731.3 KB
Apr 16, 2014
63
2.5 MB
May 07, 2016
16
324.19 KB
Aug 26, 2014
92
2.79 MB
Sep 21, 2017
12
353.52 KB
Oct 30, 2013
15
1.1 MB
Oct 18, 2018
414
2.57 MB
Jun 01, 2018
18
2.07 MB
Feb 17, 2014
24
1.68 MB
Oct 07, 2014
4
1.64 MB
Jan 16, 2015

Archived VCE files

| File | Votes | Size | Last comment |
| --- | --- | --- | --- |
| | 6 | 1.25 MB | Nov 26, 2014 |
| | 2 | 1008.25 KB | Nov 24, 2014 |
| | 2 | 1008.26 KB | Nov 19, 2014 |
| | 2 | 1008.26 KB | Nov 19, 2014 |
| | 3 | 1.22 MB | Nov 19, 2014 |
| | 2 | 1008.2 KB | Nov 13, 2014 |
| | 7 | 1.12 MB | Jul 11, 2014 |
| | 4 | 993.81 KB | Aug 13, 2014 |
| | 2 | 1.11 MB | Jul 17, 2014 |
| | 10 | 993.81 KB | Jul 12, 2014 |
| | 7 | 993.12 KB | Jun 13, 2014 |
| | 3 | 1.17 MB | Mar 11, 2014 |
| | 4 | 1.4 MB | Mar 29, 2014 |
| | 8 | 1.01 MB | May 24, 2014 |
| | 6 | 890.51 KB | Dec 24, 2013 |
| | 7 | 819.57 KB | Dec 20, 2013 |
| | 4 | 1.27 MB | Feb 24, 2014 |
| | 6 | 1.01 MB | Dec 11, 2013 |
| | 7 | 1.41 MB | Nov 21, 2013 |
| | 7 | 978.59 KB | Nov 14, 2013 |
| | 4 | 1.5 MB | Jan 12, 2014 |
| | 4 | 1.64 MB | Jul 03, 2013 |
| | 5 | 1.64 MB | Feb 04, 2014 |
| | 2 | 1.64 MB | Sep 16, 2014 |
| | 3 | 387.37 KB | Mar 17, 2014 |
| | 2 | 1.64 MB | Aug 25, 2014 |

Comments
* The most recent comments are on top.
* Please post your comments about 70-461 Microsoft Exam. Don't share your email address asking for Microsoft 70-461 dumps or 70-461 pdf files.
---
Hamza
United States
Jul 12, 2019
Is the current premium file still valid? Because I see 10 more questions on other websites. I am trying to take the exam next week.
---
Ghanshyam Patel
United States
Sep 12, 2018
Hey sebatiao carlos, where is your VCE file, i have plan to give exam this month
---
N'GOLO
South Africa
Jul 20, 2018
Thanks passed 461 exam today. Premium file valid
---
sebatiao carlos
United States
Jun 19, 2018
thanks people i was also scared of the talks too. but just did a lot of practice test from the advices i got here. last week sat for 70-461 exams and i did pass well. had 835 its all about practice.
---
E-SIR
@ vincent nothing is easy in this world. that's why the said that nothing comes on a silver plata. you always have to work hard to achieve your goals. try going throu exam 70-461 practice test. this will help in boosting you confidence and again that's when you will know if it was eas or not.
---
amourali a
@ vincent my brother if you want to pass you can. the bit of gaining experience first is also good. let us not scare you. yes you can. but rember that with no sql sever experience for u to pass 70-461 exam questions you realy have to put a lot of practice in your work to cope with what the experienced people have. other wise just try your luck and all the best
---
Vincent Ohanya
preparing for exam 70-461 next week. from an ealieer post someone said that its tough if you have no sql experience. unfortunately just graduated last year and thought that it would be wise if i spread 461, 462 and 463 for this year.
---
n. nelsonpaul
70-461 dumps on microsoft sql server were just perfect. the only problem is that you should not use them alone for exam preparation. get other books and other reading materials to support and to be sure especially for those who are not having instractors.
---
mohamed bou
United States
Jun 19, 2018
the 70-461 practice test found on the vce simulator is the best. they not only help you pass exams but also helps in building you career too. it sharpens your mcse business intelligence not only as an employee but also preparers you for the business that you would like to do.
---
viveke e
Saudi Arabia
Jun 19, 2018
at the age of 50 i passed 70-461 exams on my first attempt. hahaha this old i got a 878 score thanks to exam collection. i still don't believe this. i am going to retire when i have achieved my dreams in my career. its never too late to try.


Microsoft MCSA 70-461 MCSA Querying Microsoft SQL Server 2012/2014 exam dumps & updated practice test questions to study and pass quickly and easily.
100% Free Real MCSA Microsoft 70-461 MCSA Querying Microsoft SQL Server 2012/2014 practice test questions uploaded by real users who have passed their own exam and verified all the incorrect answers.
Microsoft MCSA 70-461 MCSA Querying Microsoft SQL Server 2012/2014 practice exam dumps & training courses in VCE format in order to pass the exam.
You need Avanset VCE Exam Simulator in order to study the Microsoft MCSA 70-461 exam dumps & practice test questions.

How to Open VCE Files
Use VCE Exam Simulator to open VCE files.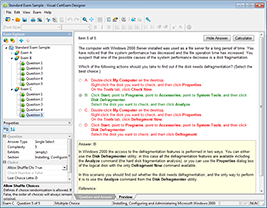 70-461 Training Products
70-461 Premium File
221 Questions & Answers

Instant Download

$69.99
70-461 Training Course
147 Video Lectures

Watch Online

$69.99
70-461 Study Guide
123 PDF pages

Instant Download

$69.99