Microsoft 98-366 Tests
Exam: Networking Fundamentals
Free 98-366 Exam Questions in VCE Format

File
Votes
Size
Last comment
4
240.54 KB
3
389.85 KB
Jan 12, 2019
1
531.43 KB
1
331.95 KB
8
996.22 KB
Jan 08, 2016
5
189.96 KB
Feb 19, 2015
32
189.73 KB
Jul 12, 2017
10
37.01 KB
Mar 22, 2014
4
22.61 KB
Jan 17, 2014
1
72.52 KB
Dec 23, 2013
1
176.79 KB
Jan 31, 2013
9
176.79 KB
Mar 09, 2017
1
171.25 KB
Jan 19, 2013
2
167.83 KB
Jan 10, 2013
4
120.65 KB
Jun 17, 2012
2
22.23 KB
Jul 02, 2014

Comments
* The most recent comments are on top.
* Please post your comments about 98-366 Microsoft Exam. Don't share your email address asking for Microsoft 98-366 dumps or 98-366 pdf files.
---
malia james
planning to take exam 98—366 in two days' time and i am looking for microsoft press pdf 98-366 exams. if anyone has it please help me out.
---
mayer chief
@ kiigo i think self-studies will do. i did exactly that all i used was mta fundamentals exam 98-366 practice test after going through the branidumps and some books i did pass.
---
kiigo t
South Africa
Jun 19, 2018
recently i did ccna exams and passed though did self-study. i am thinking that i want to enrollee for 98-366 course to although i am not sure if it can work out if i do self study. or should i gent an instructor?
---
Wayne Rooney
the secretes of passing mta series is to study the dumps and have lots of time lab work. get to try the 98-366 practice test. from this you will pass. but its much easier when one gains experience before starting the course.
---
Elizabeth Q
hi people can i get 98-366 dumps that have mta networking fundamentals exams 98-366 answers. i want to confirm if my answers could be correct. and also know how best to go about answering questions.
---
boston werunga
with this dumbs here yon this site i got mta 98-366 practice test. lucky me, as people are complaining on how they failed, i passed my exam thanks to examcollection


Microsoft MTA 98-366 Networking Fundamentals exam dumps & updated practice test questions to study and pass quickly and easily.
100% Free Real MTA Microsoft 98-366 Networking Fundamentals practice test questions uploaded by real users who have passed their own exam and verified all the incorrect answers.
Microsoft MTA 98-366 Networking Fundamentals practice exam dumps & training courses in VCE format in order to pass the exam.
You need Avanset VCE Exam Simulator in order to study the Microsoft MTA 98-366 exam dumps & practice test questions.

How to Open VCE Files
Use VCE Exam Simulator to open VCE files.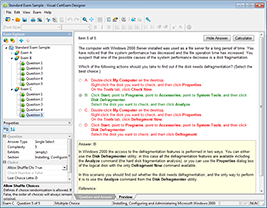 98-366 Training Products
98-366 Premium File
197 Questions & Answers

Instant Download

$69.99
98-366 Training Course
39 Video Lectures

Watch Online

$69.99