Microsoft 98-365 Tests
Exam: Windows Server Administration Fundamentals
Free 98-365 Exam Questions in VCE Format

File
Votes
Size
Last comment
4
1.37 MB
Aug 08, 2019
4
801.25 KB
3
709.41 KB
2
1.12 MB
Nov 28, 2018
3
775.63 KB
9
3.57 MB
Aug 28, 2018
2
637.62 KB
Apr 13, 2016
23
434.36 KB
Feb 27, 2018
1
434.36 KB
Nov 11, 2014
5
185.32 KB
Sep 14, 2014
7
197.39 KB
Jun 23, 2014
6
202.47 KB
May 23, 2014
3
63 KB
Apr 13, 2015
2
65.65 KB
May 29, 2018
10
1.1 MB
Sep 02, 2012
1
1.07 MB
Sep 02, 2012
1
1.06 MB
May 30, 2013
1
1.05 MB
Sep 02, 2012
2
1.03 MB
Mar 08, 2014
1
358.36 KB
Sep 13, 2012
2
376.43 KB
May 19, 2014

Comments
* The most recent comments are on top.
* Please post your comments about 98-365 Microsoft Exam. Don't share your email address asking for Microsoft 98-365 dumps or 98-365 pdf files.
---
matilda
98-365 exam questions and answers are of great use as they familiarize you with skills required in supplying answers to various types of questions. However, ensure that you fully cover the coursework before taking the exam dumps.
---
lewis
South Africa
Jun 29, 2018
@ bridget, enlighten me on the questions that were absent and the 98-365 dumps you used. I too failed the exam and looking to retake it in the coming future. Won't wait my money.
---
Magnus
some information contained in 98-365 answers is shallow and in some cases wrong. To be on the safe side, I recommend using the course book in conjunction with the dumps so as to thoroughly cover the critical information tested in the coursework.
---
wilfred
Kindly tell me if the dumps for mta 98-365 are valid and updated or not. I am sitting for my exams next week and I'm looking to go through some efficient before sitting for the exam.
---
denis88
@ bridget I'm sorry for that. I used the file from this website for exam 98-365. And can assure you, they are the best in the market. Almost all the questions I met on the cert exam. I passed and wish you luck.
---
eliza
@ elvin, try use vce files you find there in your preparation for 98-365. Was in the same spot some months ago. They were of great help to me.
---
bridget
United States
Jun 05, 2018
i sat for my 98-365 exam today and failed. However, I came across 98-365 exam questions that were not covered in the dumps. where can I get updated mta 98-365 practice test
that contain issues that are tested in current exams?please, help. i'm retaking it soon!
---
elvin
United States
Jun 01, 2018
how can I access 98-365 vce files? I'm lost.
---
suzie
United States
May 27, 2018
@ duncan, you can use windows server administration fundamentals exam 98-365 answers provided on this website. it helped me to pass cert exam. suppose would help you.
---
duncan
South Africa
May 22, 2018
what 98-365 practice test would you recommend for a candidate looking to tackle 98-365 exam?


Microsoft MTA 98-365 Windows Server Administration Fundamentals exam dumps & updated practice test questions to study and pass quickly and easily.
100% Free Real MTA Microsoft 98-365 Windows Server Administration Fundamentals practice test questions uploaded by real users who have passed their own exam and verified all the incorrect answers.
Microsoft MTA 98-365 Windows Server Administration Fundamentals practice exam dumps & training courses in VCE format in order to pass the exam.
You need Avanset VCE Exam Simulator in order to study the Microsoft MTA 98-365 exam dumps & practice test questions.

How to Open VCE Files
Use VCE Exam Simulator to open VCE files.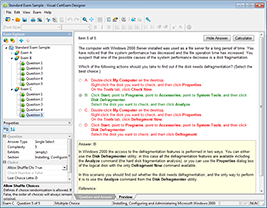 98-365 Training Products
98-365 Premium File
394 Questions & Answers

Instant Download

$69.99
98-365 Training Course
47 Video Lectures

Watch Online

$24.99