Microsoft 98-361 Tests
Exam: Software Development Fundamentals
Free 98-361 Exam Questions in VCE Format

File
Votes
Size
Last comment
3
532.45 KB
Sep 07, 2019
1
612.13 KB
3
558.33 KB
Aug 21, 2018
4
168.43 KB
Oct 27, 2015
1
220.07 KB
Jun 12, 2014
3
193.37 KB
May 27, 2014
3
265.74 KB
May 15, 2014
1
140.16 KB
May 27, 2014
9
185.67 KB
Oct 18, 2016
3
185.67 KB
Aug 16, 2012
3
200.17 KB
May 06, 2013

Comments
* The most recent comments are on top.
* Please post your comments about 98-361 Microsoft Exam. Don't share your email address asking for Microsoft 98-361 dumps or 98-361 pdf files.
---
fengquan
@ali, mta 98-361 files are available from many vendors. however, I've used those provided on this website. they are updated to meet the course therefore making one a worthy candidate for the exam. i personally tried the exams and scored 90%.
---
ali
Kindly, guide me on what I need to do to pass mta 98-361. I have failed the exam twice and this is my last attempt. hoping there are premium files I can use to attain optimal scores in my exam.
---
ameera
United States
Jun 19, 2018
98-361 exam questions do no include all the questions I've faced on the exam. I'm waiting for the results. Wish me luck.
---
shu-ling
premium files for 98-361 were extremely useful with a lot of tools required to be a Microsoft Certified Solutions Architect. practice tests in conjunction with vce player are an assurance of excellent scores.
---
regina
Bingo!! thanks to 98-361 practice tests I was able to attain an excellent score in the first try. i passed 98-361 exam! i did it!
---
mary
although I excepted that a beginner like me was doomed to fail the exam, 98-361 practice test acted as a guide to what I was required to tackle in preparation for the exam. the dumps have a balance of challenge and basic issues that enable a beginner like me to keep balance of the coursework and grasp the content that was of vitality to the exam.
---
john
the cert exam contains numerous questions that may be quite cumbersome for last minute preparation for exam 98-361. although most questions were related to what I found in the exam, i came across various questions that were not touched on in the dumps. I would advise one to avoid to rely on the dumps solely as they leave one at risk of missing vital concepts.
---
cleo54
@amira, there are numerous providers. the one that I used during my preparation was mta 98-361 practice tests from this website. it contained updated information and guided me one on areas where I need more practice.
---
amira
does anyone know where I can get mta software development fundamentals practice test?


Microsoft MTA 98-361 Software Development Fundamentals exam dumps & updated practice test questions to study and pass quickly and easily.
100% Free Real MTA Microsoft 98-361 Software Development Fundamentals practice test questions uploaded by real users who have passed their own exam and verified all the incorrect answers.
Microsoft MTA 98-361 Software Development Fundamentals practice exam dumps & training courses in VCE format in order to pass the exam.
You need Avanset VCE Exam Simulator in order to study the Microsoft MTA 98-361 exam dumps & practice test questions.

How to Open VCE Files
Use VCE Exam Simulator to open VCE files.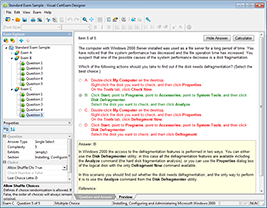 98-361 Training Products
98-361 Premium File
164 Questions & Answers

Instant Download

$69.99