Microsoft 70-486 Tests
Exam: MCSD Developing ASP.NET MVC Web Applications
Free 70-486 Exam Questions in VCE Format

File
Votes
Size
Last comment
6
5.25 MB
Oct 21, 2019
8
5.05 MB
Sep 30, 2019
8
5.27 MB
Mar 18, 2019
16
3.92 MB
May 30, 2019
6
4.53 MB
Nov 12, 2018
26
10.15 MB
Aug 08, 2018
8
4.59 MB
Dec 30, 2015
17
10.17 MB
Jun 29, 2016
4
102.37 KB
Jul 30, 2015
6
8 MB
Aug 11, 2015
2
7.59 MB
Mar 11, 2015
3
7.42 MB
3
7.31 MB
Jul 30, 2015
34
6.93 MB
Apr 05, 2018
146
5.82 MB
Apr 05, 2018
5
5.11 MB
Feb 25, 2015
4
5.12 MB
Feb 05, 2015
4
5.54 MB
Jan 21, 2015
4
6.06 MB
Jan 19, 2015
89
5.54 MB
Jan 28, 2017
11
226.82 KB
Apr 02, 2014
18
226.82 KB
Oct 21, 2014
285
6.06 MB
Oct 05, 2015
25
6.07 MB
Nov 25, 2014
26
3.47 MB
Feb 16, 2014
30
5.23 MB
Feb 23, 2014
62
5.23 MB
Aug 27, 2015

Archived VCE files

| File | Votes | Size | Last comment |
| --- | --- | --- | --- |
| | 3 | 5.24 MB | Dec 11, 2014 |
| | 5 | 5.55 MB | Dec 10, 2014 |
| | 8 | 123.48 KB | Nov 19, 2014 |
| | 3 | 123.49 KB | Nov 12, 2014 |
| | 3 | 123.49 KB | Oct 01, 2014 |
| | 8 | 108.58 KB | Aug 28, 2014 |
| | 5 | 121.14 KB | Sep 09, 2014 |
| | 3 | 4.88 MB | Nov 13, 2014 |
| | 3 | 226.82 KB | Jan 18, 2014 |
| | 4 | 2.52 MB | Jan 07, 2014 |
| | 3 | 4.99 MB | Jun 10, 2016 |
| | 5 | 6.07 MB | Dec 30, 2013 |
| | 7 | 89.22 KB | Oct 16, 2013 |
| | 2 | 5.22 MB | Jun 26, 2013 |
| | 7 | 5.22 MB | Jan 30, 2019 |
| | 2 | 6.08 MB | Sep 20, 2013 |
| | 2 | 6.08 MB | Jul 11, 2013 |
| | 1 | 7.11 MB | Apr 10, 2013 |
| | 1 | 5.51 MB | Apr 06, 2013 |
| | 1 | 5.42 MB | Jun 03, 2013 |
| | 1 | 5.33 MB | Mar 04, 2013 |
| | 1 | 6.23 MB | May 07, 2013 |
| | 2 | 6.23 MB | Mar 11, 2013 |
| | 2 | 7.07 MB | Apr 27, 2013 |
| | 1 | 5.22 MB | Nov 19, 2013 |

Comments
* The most recent comments are on top.
* Please post your comments about 70-486 Microsoft Exam. Don't share your email address asking for Microsoft 70-486 dumps or 70-486 pdf files.
---
Nour
@ahmad Are the answers to the premium dump questions correct?
---
ahmad
premuim dump is valid .. new 3 questions for me
---
null
Made today the exam. The premium file is valid. 4 new questions on the exam.
---
Fox
Yes it has a .Net Core questions but just a few
---
Tejas
do these dumps have a .net core examples with azure examples
---
Styven
Hello, can someone tell me if the content is updated with the last update of the exam?
---
Lupin
Hello, Can anyone help me passing this exam? I need an exam preparation resource, a book or something else, please!
---
Pit
Wich of this file is still valid?
---
ed
which of these dumbs still valid?
---
ivan pn
I want to certify I do not know where to start
---
rajab abdull
South Africa
Jun 18, 2018
@marion thank you very much for the encouragement and the information
@ann thank you too. please send me the questions.
---
kenny
how i wish had known this site before. i dint know that it was this useful. i did 70-486 with nobody to share with. the exams were tough and did not pass. thanks god i found examcollection where people share their experiences. i did my exams and passed. am just here to thanks one jayden for helping me pass.
---
anne jame
New Caledonia
Jun 11, 2018
@ rajab abdul marion's statement is true. just go through the questions found on the dumps. but again, i also have a collection of 70-486 exam questions. maybe i can send the to you. the only problem is that they don't have answers. so, its upon you to search for the answers.
---
marion
@ rajab abdull. hey man fear not. the exams are not that tough. the only secrete is to make sure that you go thro the dumps. at the end there are questions and answers that will help you test yourself if you have understood the concept. try them out.
---
Jeff
United States
Jun 03, 2018
@pauline sure they are valid. took my 70-486 exams in the beginning of the year. unfortunately, i dint pass and i am planning to have a retake soon. still working hard on my studies and i hope that this time round i will pass. i seriously need this for my career.
---
nimrod taabu
really good site. i got my dumps from ecamcollections and passed my exams well. the dumps start by discussing basic as it gradually gets to more detailed explanations. this makes it easy to understand the concepts. from it one is able to build a full functional site.
---
rajab abdull
South Africa
May 18, 2018
am done training for 70-486. preparing for exam 70-486. i am really scared of the exams though i keep on postponing. it seams to be really tough from what i have seen. please those who ihave done it help me know the approach that u used.
---
pauline
hey people can somebody answer me of the validity of 70-486 in canada?


Microsoft MCSA 70-486 MCSD Developing ASP.NET MVC Web Applications exam dumps & updated practice test questions to study and pass quickly and easily.
100% Free Real MCSA Microsoft 70-486 MCSD Developing ASP.NET MVC Web Applications practice test questions uploaded by real users who have passed their own exam and verified all the incorrect answers.
Microsoft MCSA 70-486 MCSD Developing ASP.NET MVC Web Applications practice exam dumps & training courses in VCE format in order to pass the exam.
You need Avanset VCE Exam Simulator in order to study the Microsoft MCSA 70-486 exam dumps & practice test questions.

How to Open VCE Files
Use VCE Exam Simulator to open VCE files.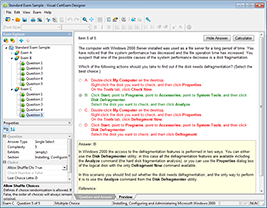 70-486 Training Products
70-486 Premium File
236 Questions & Answers

Instant Download

$69.99
70-486 Training Course
91 Video Lectures

Watch Online

$24.99
70-486 Study Guide
911 PDF pages

Instant Download

$24.99