Download HP.ActualAnswers.HP0-S35.v2013-02-22.by.LoL.63q.vce

| | |
| --- | --- |
| Exam: | HP0-S35 - Implementing HP BladeSystem Solutions |
| Size: | 1.44 MB |
| # of downloads: | 7 |
| Free Download: | |





Comments
* The most recent comments are at the top.
---
---
MaaShar
Belgium
Feb 26, 2013
Bebop,

setting more retries means HP SIM tries 'x' times to reach the server before sending an alert. So you have more chance of being reachable once within five tries than within 1 try :)
---
Bebop
Belgium
Feb 26, 2013
27C is right..I read a too old white paper
28 can be A (In SMH you can send a snmp test trap. The trap then generate an event that is send to IRS).
Depends on the other choices..
About 32, is should not be A for me. Increasing retries will send more alerts.
The right answer would be to increase the timeout setting.

35 I would say D but really not sure.
A : Profile edition should be independant of blade servers (In VCEM, SAN & Network resources are shared)
B : Same reason as A
C: It depends on which cable but blades are not connected to VC interconnects using cables
---
PewPew
France
Feb 26, 2013
Question 28: There is no test from the IRS Admin Console which is part of WEBes - the easiest way is to use SEA and click the Notification settings (yellow traingle with a question mark) - check that nothing is highlighted in orange (incomplete information)and that ISEE Notification is enabled then then click the Send Test Event button at the bottom.

http://h30499.www3.hp.com/t5/general/Easiest-way-to-test-out-Insight-Remote-Support/m-p/5185577#M3967
---
MaaShar
Belgium
Feb 26, 2013
This is how I should answer these questions

27c - adobe flash - VCM 3.30 requires Adobe Flash Player 10.x or higher before you can log in. HP recommends updating to Adobe Flash Player 10.2 or higher.

28a? - definitely not B :)

29a - http://www.tricksguide.com/show-all-report-of-hp-c-class-blade-enclosure.html

30c - http://h10010.www1.hp.com/wwpc/us/en/sm/WF05a/3709945-3709945-3710114-3722820-3722776-4304942.html?dnr=1

31d - http://h18004.www1.hp.com/products/servers/proliantstorage/arraycontrollers/index.html

32 a or c - I don't know which one is recommended by HP, but both a and c are possible

33d and ? - 2TB+ disks - http://www.petri.co.il/gpt-vs-mbr-based-disks.htm
I can't find the second answer. SSD is supported for both I think and can't find if there is any encryption..

34a - LTO5 up to 3TB

35? - anyone knows?

36a - http://h20000.www2.hp.com/bc/docs/support/SupportManual/c02008676/c02008676.pdf (page 74)
---
Bebop
Belgium
Feb 26, 2013
http://h20000.www2.hp.com/bc/docs/support/SupportManual/c00687518/c00687518.pdf

P10 : 31 d
P12 : SAAP features (SmartArray Advanced Pack)

My opinion:
27 : Not adobe software, not VCA so answer D
29 A (I know it works but I don't know if the option is still available when the settings are lost )
30 C
32 : not a nor b maybe C
33 D but don't know the 2nd (no encryption & SSD also supported by MBR)

-Which features were added to the Hyper V role in Windows Server 2008 R2 (Select two)
=> virtual machine snapshots were already in the Windows Server 2008 version
---
MaaShar
Belgium
Feb 26, 2013
LoLHP,

yes, those questions were in my exam as well :)
Unfortunately I can't provide any extra answers or questions. It has been a week now. I'm taking the exam again this afternoon. I'm hoping for the best.. I hope anyone can try to give us some feedback on the extra 36 questions?
---
LoLHP
United States
Feb 26, 2013
Also do any of these questions ring a bell? Let me know if they bring back anything to you:

IML Log: (question regarding IML logs)
Records hardware events and stores them in a neatly formatted table. It records time-stamp and event categories like critical, caution, repaired and status

SPD / DSP ? questions

Another HP UX question

Smart array pack - what are the features

Information on Intellegent provisioning (question / answers referencing it)

What Network RAID level requires you to power off the drive in the CMC Administration console, On a P4000.
a. Raid 0
b. Raid 1
c. Raid 5
d.
---
LoLHP
United States
Feb 26, 2013
I have some more questions, i'll be uploaded a revised version tommorow, any other assistance you can give on reviewing the questions, that would be very helpfull.

27. What software is required before Virtual Connect Manager 3.4.x can be installed?
a. Adobe Reader
b. Version control agent
c. Adobe Flash
d. Something else


28. A customer has insight remote support installed in their environment was is the least impactful way to test the solution?
a. Run a test from System management homepage
B. Remove a power supply from the server
c.
d.


29. How do you backup OA setting if all settings are lost?
a. Copy OA configuration Script
b. Take a screen shot of the OA page
c. Take a screen of the Virtual Connect manager settings
d. Save all the blade settings on each individual blade.

30. If using D2200SB was is needed to create a shared Iscsi storage solution?
a. P770 controller
b. 1GB FWBC Cache
c. Virtual Storage Appliance (VSA)
d.

31. How long does the FWBC store data?
a. 24 hours
b. 32 hours
c. 72 hours
d. Indefinently

32. You have email alerts configuration in HP SIM and you keep receiving alerts for non-distruptive failures, how do you change the settings to stop receiving these false positives in HP SIM?
a. Increase retries from 1 to 5
b. adjust from discovery page, the settings
c. adjust time it has to be unavailable.

33. Advantages of GPT over MBR (Choose 2)
a. 1024 encryption
b. 2048 encryption
c. Supports SSD's
d. Supports 2TB + disks


34. Customer needs to upgrade their current tape blade, what is the largest tape blade for customer?
a. HP LTO-5 SB3000
b. HP 1780c
c. Xb1970
d.

35. You add NICS in the server profile but the networking map isn't showing up why?
a. Server profile isn't assign to the server
b. The server is turned off
c. A network cable is unplugged
d. Reboot the server
---
MaaShar
Belgium
Feb 25, 2013
LoLHP, looks very valid :)
I doubt about 2 or 3 questions as well, but can't find the answer unfortunately..

-Which features were added to the Hyper V role in Windows Server 2008 R2 (Select two)
SLAT is correct 100%
support for 192 VM's and 24 logical processors are 100% invalid
I just doubt about 'failover clustering' and 'virtual machine snapshots'. 'Live migration' would be perfect :)

- What is the fastest way to achieve SPP update on 5 Windows and 5 RHEL?
My opinion is that all the answers are valid, it's just about knowing which one is the fastest. Then I would say 'Update all targets remotely at the same time from one instance of HP Smart Update Manager from a client'. Or does anyone have a reason why Windows and RHEL should be updated seperately?

Before returning an SSD attached to a SMART Array controller in a Blade system in warranty, what must be performed?
- Looks like Maya (anonymous) found a valid answer?: http://h20000.www2.hp.com/bc/docs/support/SupportManual/c00729544/c00729544.pdf Page 100

SmartSSD Wear Gauge report
This report contains information about the current usage level and remaining expected lifetime of solid
state drives attached to the system.

If an SSD reached its normal life span, HP will not replace the drive



Anyway, is there anyone else who has extra questions or can help us solve the other 26 questions? There is a big chance you will get all those questions so it would be really helpful!
Report Comment
| | | |
| --- | --- | --- |
| Verify: | | |



How to Open VCE Files
Use VCE Exam Simulator to open VCE files.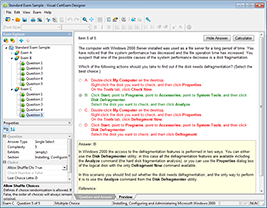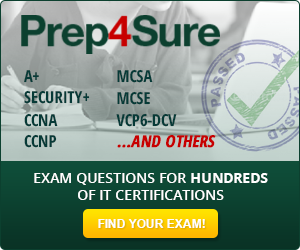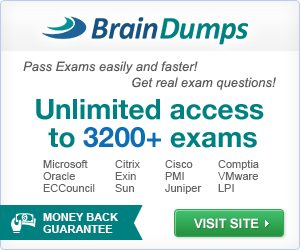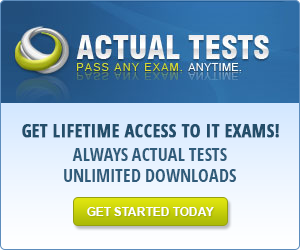 Only
Registered
Members Can Download VCE Files
Please fill out your email address below in order to Download VCE files or view Training Courses. Registration is Free and Easy, You Simply need to provide an email address.
Trusted By 1.2M IT Certification Candidates Every Month
VCE Files Simulate Real exam environment
Instant download After Registration.
A confirmation link will be sent to this email address to verify your login.
Already Member? Click Here to Login

Log into
your
ExamCollection
Account
Please Log In to download VCE file or view Training Course
Only registered Examcollection.com members can download vce files or view training courses.
Registration is free and easy - just provide your E-mail address. Click Here to Register

DO YOU HAVE A
VCE
PLAYER
?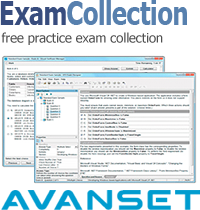 Your file is being downloaded.
All tests on this site have been created with VCE Exam Simulator.
VCE Exam Simulator is interactive testing engine developed for certification exam preparation.
Files with VCE extension can be opened with this program.
Before you can open any file on this site you will need to download VCE Exam Simulator

Log in to make your opinion count.
Only registered Examcollection.com members can rate files.
Registration is free and easy - just provide your E-mail address. Click Here to Register