Microsoft MD-101 Tests
Exam: Managing Modern Desktops
Free MD-101 Exam Questions in VCE Format

File
Votes
Size
Last comment
3
1.2 MB
May 09, 2019

Comments
* The most recent comments are on top.
* Please post your comments about MD-101 Microsoft Exam. Don't share your email address asking for Microsoft MD-101 dumps or MD-101 pdf files.
---
mdd1
The premium dump is valid, someone can confirm to take the exam ..
---
Jozef
Please confirm is this valid or not !?
---
ExpressMan
South Africa
May 11, 2019
How many questions is in the exam and what score do you need to pass?
---
search
Is the premium dump valid?
---
Muhammad Naveed
How Many Questions From Premium File were there in exam Please someone tell me
---
hans02
we need to know if it's valid.
---
Peter
Hello Guys, is this valid? I want to book for the beta exam. Someone confirm for christ sake.
---
hrmg
No update yet on this one?
---
3letter
How many questions are on the exam, did anyone write it and passed.
---
passany
Someone has surrendered the exam with the premium dump, please confirm
---
getli
You can confirm if the premium dump is valid, I am scheduled to give it this week ...
---
najib bossku
There is around 20 question not from the dump. passed
---
3letter
Did anyone pass this exam with Premium ? How many Questions on Exam ?
---
DJR
@Z, did you pass though? What was you're score. I'm taking this exam very soon.
---
Z
United States
Mar 31, 2019
The file is valid but not all of those questions are on there.
---
certificationb
The premium dump is valid? Confirm pls
---
Bingbong
United States
Mar 25, 2019
Anyone passed using the 59q dump? Will there be more questions added to premium?
---
Sddq
Dump 59 questions valid?
---
Jack
Did anyone pass using this dump as yet?
---
Mehmet
Can somebody plz verify if the premium VCE is valid??
---
Ray
United States
Mar 18, 2019
Did any buddy pass the exam using this dump? Please confirm if the dump is valid
---
Yuz
Can someone verify if this prem is valid please?
---
Mrsparta
Is the premium file valid ?


Microsoft MD-101 Managing Modern Desktops exam dumps & updated practice test questions to study and pass quickly and easily.
100% Free Real Microsoft MD-101 Managing Modern Desktops practice test questions uploaded by real users who have passed their own exam and verified all the incorrect answers.
Microsoft MD-101 Managing Modern Desktops practice exam dumps & training courses in VCE format in order to pass the exam.
You need Avanset VCE Exam Simulator in order to study the Microsoft MD-101 exam dumps & practice test questions.

How to Open VCE Files
Use VCE Exam Simulator to open VCE files.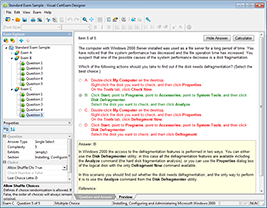 MD-101 Training Products
MD-101 Premium File
59 Questions & Answers

Instant Download

$69.99