Microsoft 70-483 Tests
Exam: MCSD Programming in C#
Free 70-483 Exam Questions in VCE Format

File
Votes
Size
Last comment
6
10.57 MB
Dec 25, 2019
19
10.78 MB
Jun 12, 2019
4
9.69 MB
May 15, 2019
9
9.56 MB
May 15, 2019
3
7.76 MB
Aug 24, 2015
10
71.61 KB
Dec 03, 2015
9
8 MB
Jun 18, 2015
7
8 MB
Sep 02, 2015
3
8 MB
Oct 30, 2015
3
8 MB
2
7.76 MB
15
8 MB
Feb 24, 2015
16
4.73 MB
Nov 20, 2014
24
2.61 MB
Aug 21, 2014
218
8 MB
Sep 11, 2019
20
2.9 MB
Jun 15, 2014
13
3.9 MB
Aug 19, 2015
17
131.35 KB
Feb 23, 2015
19
1007.47 KB
Jun 06, 2014

Archived VCE files

| File | Votes | Size | Last comment |
| --- | --- | --- | --- |
| | 6 | 8 MB | Dec 30, 2014 |
| | 1 | 8 MB | Jan 16, 2015 |
| | 2 | 8 MB | Jan 16, 2015 |
| | 7 | 3.8 MB | Nov 06, 2014 |
| | 2 | 3.8 MB | Oct 08, 2014 |
| | 3 | 8 MB | Oct 25, 2016 |
| | 4 | 3.8 MB | Sep 05, 2014 |
| | 10 | 8 MB | Oct 13, 2014 |
| | 3 | 8 MB | Jun 26, 2014 |
| | 4 | 3.8 MB | Jun 13, 2014 |
| | 5 | 4.73 MB | Aug 20, 2014 |
| | 3 | 172.05 KB | May 15, 2014 |
| | 8 | 206.05 KB | Jul 21, 2014 |
| | 4 | 183.92 KB | May 15, 2014 |
| | 1 | 202.03 KB | May 15, 2014 |
| | 3 | 203.8 KB | May 15, 2014 |
| | 4 | 238.95 KB | Mar 15, 2014 |
| | 12 | 5.76 MB | Nov 29, 2013 |
| | 3 | 5.6 MB | Jan 23, 2014 |
| | 2 | 5.6 MB | May 10, 2013 |
| | 2 | 5.58 MB | Jun 12, 2013 |
| | 2 | 5.61 MB | Jun 12, 2013 |
| | 1 | 5.6 MB | Apr 08, 2013 |
| | 1 | 5.6 MB | Feb 10, 2014 |
| | 1 | 5.4 MB | Mar 15, 2013 |
| | 2 | 5.6 MB | Mar 08, 2014 |
| | 2 | 5.5 MB | Mar 12, 2013 |
| | 1 | 5.45 MB | Feb 09, 2013 |
| | 1 | 5.4 MB | Jan 31, 2013 |
| | 2 | 126.4 KB | Jun 13, 2014 |
| | 1 | 1.75 MB | Jan 03, 2013 |
| | 2 | 212.05 KB | Jan 03, 2013 |
| | 1 | 64.55 KB | Jan 03, 2013 |
| | 3 | 546.95 KB | Sep 17, 2014 |

Comments
* The most recent comments are on top.
* Please post your comments about 70-483 Microsoft Exam. Don't share your email address asking for Microsoft 70-483 dumps or 70-483 pdf files.
---
Osian
Czech Republic
Dec 14, 2019
Pass the exam using Premium dump with 709
All 100% questions were from dump.
---
hameed
Saudi Arabia
Oct 14, 2019
I need lasted dumps for 70-483
---
Pato
I am planing to take the exam. Did anyone write this month?
---
anon
South Africa
Apr 24, 2019
Premium file is valid passed this last week, 5 new questions
---
dottie
who has utilized 70-483 premium file to tell whether it is reliable?
---
stanley
wow! 70-483 practice questions and answers provided here are really good. they have aided me towards success in the exam. they made it easy for me to answer the actual exam questions. i appreciate you guys for enabling me to pass the test.
---
christine
for a while c# certification exam has been giving me stress because i fear failing. please, those who have passed the exam before guide me on what i should do to pass the exam as well.
---
james
c# exam questions is all what you need to achieve you dream of excelling in the actual test. they are actually alike with those often tested in the real exam. they are the reason behind my success in cert exam. utilize them in your revision and you won't be disappointed.
---
nancy
i used c# certification practice test to prepare for the exam. it's unbelievable i have scored 85 percent. i am glad guys.
---
brigitte
hey comrades, i have a secret on how to excel in the c# exam easily. just utilize the vce files. they have all the information you may be required to cover in order to pass the exam.
---
moses
South Africa
Sep 18, 2018
70-483 exam questions are really awesome. they are similar with those found in the actual exam. they helped me to prepare well for the exam thus managing to excel with a high grade.
---
jeniffer
who has passed 70-483 programming in c# microsoft official practice test??????
---
pauline
United States
Sep 15, 2018
amazing! i have passed the test using exam 70-483 dumps. despite having limited time for revising for the test, the dump/s have helped me to escape a fail in the exam.
---
julius
hey guys, please prepare for the test using 70-483 dumps. i can assure you they are helpful. i am confident if you revise for the exam using them you will automatically perform excellently like i did.
---
weddy
unbelievable! i have managed to score 78 percent in exam 70-483. in due time i will be mcsd certified and have the potential to perform various tasks related to programming.
---
malik
United States
Sep 10, 2018
I've used the dumps available here for 70-483. practice questions as well as answers a really nice. for sure if it were not for them, i could failed in the exam.
---
wickliffe
at least i have attained the pass mark in the 70 483 cert exam despite the test being tough. i was lucky to have come across the braindumps. they have made me proud.
---
justin levi
can we download premium file for 70-483 exam multiple times if we pay once?
---
Arlie White
South Africa
Jun 13, 2018
i passed the 70-483 exam. i used the free microsoft 70-483 dumps for preparation, the dump does not cover 80 of the exam. you've got to read the exam book as well
---
chakriiking
i am going to take the exam 70-483 in january. i am new to microsoft certification.
can anyone describe the format or structure of the exam 70-483?...i mean , is it going to be multiple choice question?..or short answer question?..or else we have to write the bunch of coding in this exam?..
---
tien lee
United States
May 31, 2018
can anyone send me the link for old microsoft certification for the c# programming? ....compare to xam 70-483. which book material is recommended for the exam 70-483?..i am looking for the past exam papers for c#.


Microsoft MCSD 70-483 MCSD Programming in C# exam dumps & updated practice test questions to study and pass quickly and easily.
100% Free Real MCSD Microsoft 70-483 MCSD Programming in C# practice test questions uploaded by real users who have passed their own exam and verified all the incorrect answers.
Microsoft MCSD 70-483 MCSD Programming in C# practice exam dumps & training courses in VCE format in order to pass the exam.
You need Avanset VCE Exam Simulator in order to study the Microsoft MCSD 70-483 exam dumps & practice test questions.

How to Open VCE Files
Use VCE Exam Simulator to open VCE files.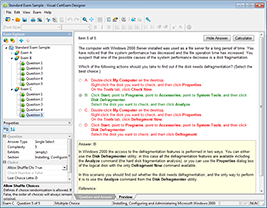 70-483 Training Products
70-483 Premium File
280 Questions & Answers

Instant Download

$69.99
70-483 Training Course
99 Video Lectures

Watch Online

$24.99
70-483 Study Guide
740 PDF pages

Instant Download

$24.99
70-483 Audio Guide
118 MP3 minutes

Instant Download

$24.99