Microsoft MD-100 Tests
Exam: Windows 10
Free MD-100 Exam Questions in VCE Format


Comments
* The most recent comments are on top.
* Please post your comments about MD-100 Microsoft Exam. Don't share your email address asking for Microsoft MD-100 dumps or MD-100 pdf files.
---
J
Pass with 790/1000, premium VCE still valid however in the exam, the Deploying Windows section has an entirely new set to questions (none from the VCE). You still need to study or apply experience from the field.
---
Naseer Habib
Passed MD-100 on 24th Oct.! 10 New questions were in the exam, total 44 questions. pay attention, understand NTFS and share permissions. Good luck!
---
Chino
United States
Oct 22, 2019
Passed the exam today. 771/1000. Premium vce 115 is valid. I had 44 questions. 1 case study with 5 questions. 6 yes and no questions. And the rest are mix questions. About 5-6 new questions.
---
Himanshu
Premium dumps valid
45 total questions. 6-7 new questions.Passed with 845 on Oct 12
---
Harsh
May i ask which VCE viewer you are using? ANy suggestion other than the Avanset?
---
John
United Kingdom
Oct 06, 2019
Passed 05/10/19. Premium Dump Valid
---
Marco
I take the exam today and i get 827 passing score, dump premium are valid! 6 new question
---
Harsh
Minimum passing marks is 700 but it is always good to look at a higher side. The question changes in real exam. Like out of 45, sometimes 6-10 changes.
Btw, is the Premium dumps still valid?
---
Mark
What is the passing score for the exam? The VCE's say 800
---
Adrian
I did the exam today. from 45 questions 6 new
---
Nagashree Ramaswamy
practice questions needed
---
MDRoy
How do you open these files? Do I have to buy VCE simulator?
---
manabeng
South Africa
Sep 13, 2019
want to check labs for exam
---
Dawwas
44 q, the Premium is valid passed with 781. About 6-10 new questions.
---
Windows8Wannabe
United States
Sep 05, 2019
Premium is valid passed with 758. About 6-10 new questions. Make sure you understand NTFS and share permissions inside and out
---
Andreas
At least 10 new Q. 21/08
---
Hans
Premium dump stil valid, passed with 801. About 5-10 new questions. 45q in total.
---
Manoor
Premium is 100% valid!
Only one new question. The whole exam has 44 question so this collection cover all of it! Read the green "Exam Ref MD-100 Windows 10" book by Andrew Bettany, too. Good Luck
---
bob
South Africa
Aug 07, 2019
Are these dumps still valid?
---
mrlzymn
hi everyone. is there anybody that nearly used these dumbs? is it viable?
---
Simranjeet Singh
Hi can anybody please confirm how many questions are on md-100 exam? and also are these dumps helpful. thank you in advance
---
Klaas_Vaak
Last week we passed with this dump.
Were 8 to 9 new questions
---
Abdu
United States
Jul 22, 2019
Which exam is valid?
---
Davinci
Does the premium dump still cover enough for passing the exam?
---
jeff
premium is still valid. Passed with 770
---
AlanKor
Managed to pass with 750 using premium but had about 10 new questions
---
Billy
United Kingdom
Jul 16, 2019
How good are these dumps can i get some views please
---
Mutt
United Kingdom
Jul 11, 2019
Any updates?
---
tony s
United Kingdom
Jul 09, 2019
what app are you guys using to open the vce files?
---
WI
I passed with 7xx score. I using premium file 83 question. but I found most new question not cover in premium dumps. not any more update?
---
Kate
I passed with 735 score. i using only dumps in examcollection. some new questions not cover in premium file. Good luck 🙂
---
Victor
Premium file 83q valid?
---
rbluta
United States
Jun 21, 2019
Passed with 770 using only the dumps. Some new questions not covered in the premium file.
---
Roberto Carlos
United States
Jun 19, 2019
Passed MD-100 recently! New questions are mainly on Deny log on as a service, Windows Hello for Business, reference image, gpresult command, BranchCache, Group Policy settings...etc. Also, new Drag and Drop Qs, new Hotspot Qs...I learned the examcollection MD-100 dumps and the 92Q MD-100 dumps mainly. Good luck!
---
mdsoares
How many questions in the dump?
---
Rajesh
United Kingdom
Jun 04, 2019
Is premium valid?
---
Abdu
United States
Jun 01, 2019
24 q? How many questions in the exam ?
---
Tebogo
South Africa
May 31, 2019
it shows 24 Questions.. is it valid?
---
D
Many new questions but pass 7XX.
---
Raquel
Passed with 7xx, many new questions
---
jay
United States
May 10, 2019
Passed with 750 using only the dump.
---
N
VCE files are great addition, passed easily with more confedence
---
Dan
Worked out great, be sure you practise with labs also!
---
Asi
Passed with 750, Premium Valid. but there were new questions. file history, win10 activation,
---
Roberto
United States
Mar 30, 2019
Did anyone pass using this exam dump dump?
---
Dibbs
United States
Mar 27, 2019
45 questions on the exam. Premium dump was used to study. Some new Powershell questions that aren't in the dump.
---
M
United States
Mar 26, 2019
How many questions are actually on the exam? 24Q seems too few!
---
G
United States
Mar 21, 2019
Premium is valid, just passed with 850
---
nash
Hello,
Can somebody confirm the premium dump is valid ?
Thx
---
softline22
Good afternoon, someone has been able to take the test and confirm if the dump is premium. Thanks for the help


Microsoft MD-100 Windows 10 exam dumps & updated practice test questions to study and pass quickly and easily.
100% Free Real Microsoft MD-100 Windows 10 practice test questions uploaded by real users who have passed their own exam and verified all the incorrect answers.
Microsoft MD-100 Windows 10 practice exam dumps & training courses in VCE format in order to pass the exam.
You need Avanset VCE Exam Simulator in order to study the Microsoft MD-100 exam dumps & practice test questions.

How to Open VCE Files
Use VCE Exam Simulator to open VCE files.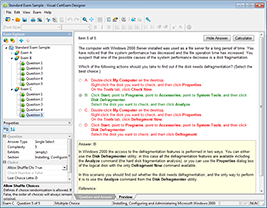 MD-100 Training Products
MD-100 Premium File
129 Questions & Answers

Instant Download

$69.99