Test Prep GACE Tests
Exam: Georgia Assessments for the Certification of Educators

Free GACE Exam Questions in VCE Format

File
Votes
Size
Last comment

Comments
* The most recent comments are on top.
* Please post your comments about GACE Test Prep Exam. Don't share your email address asking for Test Prep GACE dumps or GACE pdf files.


GACE Georgia Assessments for the Certification of Educators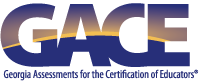 GACE (Georgia Assessments for the Certification of Educators) is a standardized test all teachers in the State of Georgia must pass have a right to teach at public schools. The GACE test consists of three sections: Reading, Writing and Mathematics. There may also be an added qualifying subject test depending on the area/class you teach.
Overall, the GACE assessments are taken by individuals seeking admission to an educator preparation program, seeking educator certification in the State of Georgia, and/or seeking to become highly qualified in a core academic subject.
In the State of Georgia, the GACE test is required for all teachers who want to teach in public schools. Furthermore, private schools in Georgia also respect the GACE results as an individual's qualification and overall eligibility to teach students, from elementary to high school, depending on the qualification and the exact GACE test specification taken.

How to Open VCE Files
Use VCE Exam Simulator to open VCE files.