Test Prep CCE-CCC Tests
Exam: Certified Cost Consultant / Cost Engineer (AACE International)
Free CCE-CCC Exam Questions in VCE Format

File
Votes
Size
Last comment
3
1.02 MB
May 21, 2016
2
714.92 KB
2
1018.96 KB
2
1.16 MB
2
938.65 KB

Comments
* The most recent comments are on top.
* Please post your comments about CCE-CCC Test Prep Exam. Don't share your email address asking for Test Prep CCE-CCC dumps or CCE-CCC pdf files.


CCE-CCC Certified Cost Consultant (CCC)/Certified Cost Engineer (CCE)

Certified Cost Consultant (CCC)/Certified Cost Engineer (CCE) is the ultimate certification for those willing to prove their professional skills and capabilities of handling the cost management, as well as the ability to increase profit in certain areas.
CCE-CCC (Certified Cost Consultant /Certified Cost Engineer) certification validates one's proficiency in cost management of the organization. This is a highly respected professional credential that sets truly successful job candidates apart from the crowd in their employment search and interviewing process.
This credential helps candidates shine as someone who has the professional credential to understand the bottom line of the organization and manage all the costs and profits as well.
The CCE/CCC exam consists of 2 sections. The first part contains multiple choice questions whereas the second part of the CCE/CCC exam requires candidates to write a technical paper approximately 2500 words. The passing score of the CCE/CCC exam is 70% which is very generous compared to some other professional exams.
CCE/CCC exam covers areas like Cost Estimating and control, economic analysis, basic cost engineering skills & knowledge and project management. The number of questions in the exam may vary, as well as the balance of topics. However, most CCE/CCC exams usually average 120 questions, which you will have 5 hours to complete.

How to Open VCE Files
Use VCE Exam Simulator to open VCE files.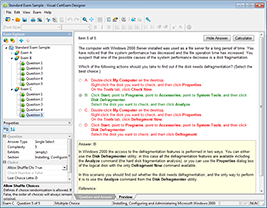 CCE-CCC Training Products
CCE-CCC Premium File
115 Questions & Answers

Instant Download

$69.99