Pass Your PRAXIS 2 Test Easy!
Get 100% Real Test Questions, Accurate & Verified Answers By IT Experts
Fast Updates & Instant Download!
Free PRAXIS 2 Exam Questions in VCE Format
PRAXIS 2 Exam Facts
PRAXIS Pre-Professional Skills Test (PPST)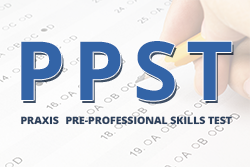 The Praxis I, or Pre-Professional Skills Test (PPST) is required to be taken by candidates willing to apply for their teaching license or certificate. Some requirements may differ from state to state, however, teachers from most statutes need to take the PPST, also known as Praxis Core.
PRAXIS 1 consists of three exams: Reading, Writing, and Mathematics, which candidates have to pass to demonstrate their readiness to teach in the public schools system. Praxis I exam may be tough, but the good thing about it is the fact that there is no penalty for guessing. Some professional exams have a rule of subtracting the score for incorrect answers, which makes guessing the answer a bad idea. This is not the case here.
All test takers receive a score regardless of the number of questions answered or the type of test. Your score is based on the number of questions you answer correctly, with no penalty or subtraction for answering a question incorrectly. It is to your advantage to pace yourself so that you have enough time to carefully consider every question. To prepare for your PPST exam, it is best to follow the study guide and spend as much time as possible studying with Praxis practice tests and vce files uploaded by your fellow educators from all over the United States.