Test Prep Grade 7 Tests
Exam: Grade 7 test

Free Grade 7 Exam Questions in VCE Format

File
Votes
Size
Last comment

Comments
* The most recent comments are on top.
* Please post your comments about Grade 7 Test Prep Exam. Don't share your email address asking for Test Prep Grade 7 dumps or Grade 7 pdf files.


Grade 7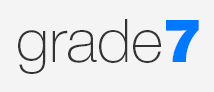 If you're in California, you have probably heard of Grade 7 test. This is a standardized test 7 graders need to take to validate their knowledge and learning skills they have acquired so far.
The Grade 7 test contains three sections: Reading, Writing, and Mathematics. Neither of the sections is too complicated as the goal of the exam is to make sure that students can demonstrate the knowledge acceptable according to the level of education in California. The test exam mostly contains multiple-choice questions.
The Mathematics section covers the knowledge of the basic math. In the Reading Section of the test, students are given excerpts which they have to read and understand, and then be able to answer questions related to what they have read. The English section tests the students' knowledge of the basics of grammar, spelling, punctuation, as well as their overall proficiency in English. The Grade 7 exam requires sufficient preparation; however, this is a great practice before students face their high school exams.

How to Open VCE Files
Use VCE Exam Simulator to open VCE files.