Pass Your DMV Test Easy!
Get 100% Real Test Questions, Accurate & Verified Answers By IT Experts
Fast Updates & Instant Download!
DMV Exam Facts
DMV Driver License Written Tests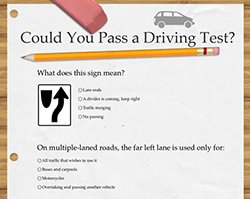 DMV (Department of Motor Vehicles) is a state-level government agency in the United States that administers vehicle registration and driver licensing. While some requirements (as well as the agency name itself) may differ from state to state, DMV administers drivers licensing and exams. So, if you need your driver's license, you need to pass an exam administered by your local DMV
Although there may be minor differences depending on your place of residency, the DMV standard written exam covers the following areas: federal traffic rules and regulations; regulatory, warning and informational road signs and signals on the road and more. After you're done with your computer-based exam, you may be required to pass n actual driving test in a vehicle with an instructor. The goal of this exam is to make sure you can actually drive, can analyze the road situation quickly and apply the knowledge of traffic rules in real life. To do well on this exam, you need to be able to handle the vehicle well and keep calm when you get in the car.
Surprisingly, many people fail their DMV exam during their first attempt. Some get confused over traffic rules or run out of time before they are able to complete the test. To maximize your chances at passing the DMV exam from the first try, we recommend that you get as much online practice as possible.