Pass Your CPAT Test Easy!
Get 100% Real Test Questions, Accurate & Verified Answers By IT Experts
Fast Updates & Instant Download!
CPAT Exam Facts
CPAT Career Programs Assessment Test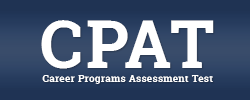 CPAT, or Career Programs Assessment test, is another standardized academic test developed by ACT to test the educational level of colleges and vocational schools. Approved by the U.S. Department of Education, the CPAT is one of the most popular exams in this domain. Candidates who perform well on this exam are eligible for government-funded financial aid. Taking the CPAT is especially important for career-track applicants who have not received a high school diploma or GED.
CPAT is a paper-and-pencil test that's scored immediately. It takes within one hour to complete and is one of the most time- and cost-effective ways to evaluate the level of candidate's education. This is especially important for candidates facing financial challenges.
CPAT covers 3 general areas: language arts (English), reading, and arithmetic skills (mathematics).In the English language section, CPAT provides a series of sentences and phrases, and the candidates need to find errors in these sentences. These may be errors in punctuation, grammar, spelling, sentence structure, word usage etc. The language section of the CPAT exam contains 60 items, and candidates are given 15 minutes to complete it. For the Reading Comprehension section, 25 minutes are allowed. In this section, students are required to read and interpret the meaning of some text abstracts.
All in all, CPAT may not be the most advanced standardized education test, but it gets the job done perfectly when it comes to some basic testing of knowledge for candidates looking to get into a vocational school or community college without their high school diploma or GED.