CompTIA 220-901 Tests
Exam: CompTIA A+ (220-901)
Free 220-901 Exam Questions in VCE Format

File
Votes
Size
Last comment
4
3.2 MB
Jul 05, 2019
6
296.62 KB
May 09, 2019
3
2.33 MB
Feb 16, 2019
24
2.3 MB
Jan 24, 2019
3
209.48 KB
Oct 15, 2018
10
3.14 MB
Sep 27, 2018
3
3.12 MB
May 24, 2018
8
142.91 KB
Nov 11, 2017
10
7.04 MB
Jan 10, 2018
19
144.23 KB
Jun 26, 2017
40
139.23 KB
Jun 26, 2017
118
132.56 KB
Jul 13, 2018

Comments
* The most recent comments are on top.
* Please post your comments about 220-901 CompTIA Exam. Don't share your email address asking for CompTIA 220-901 dumps or 220-901 pdf files.
---
Pulie
South Africa
Jun 12, 2019
are the dumps still valid?
---
mooo
South Africa
Apr 09, 2019
can anyone help with the updated dump plz am taking my exam next week
---
Hagnagof
United States
Apr 06, 2019
Great test questions for practice, but not all of them are on the exam.
---
maddy
Is there any latest 901 & 902 question bank, thank you!
---
Sam
Is the premium dumps are still valid?
---
JERRY
South Africa
Dec 19, 2018
please share 901 and 902 latest exam practice
---
Vadim
Passed today in Israel. Used premium dump, 80 questions in the test. 70-75 from premium dump.
---
VENESH
South Africa
Nov 25, 2018
hi guys I need help with 901 and 902 a ± and how do I get vce open?
---
Van
United States
Nov 08, 2018
Hi anyone know of other dumps that are useful ...
---
Sha
South Africa
Sep 23, 2018
Hi guys can someone please help me to get the valid dump
---
lesego
South Africa
Sep 14, 2018
hello. please share 901 and 902 latest exam practice
---
James
United States
Sep 05, 2018
is the premium valid?
---
Victor
United Kingdom
Sep 05, 2018
Hi , I know its early but has anyone taken the exam this month if so did any of the dumps prior this month match the questions in the exam?
---
Clay
South Africa
Jul 18, 2018
Hi Guys where can i get the latest VCE player
---
Kelvin Kimutai
these dumps are so helpful, i can recomend!
---
Samuel
United States
Jun 23, 2018
Christian can you share with the the practice test that are 95% valid please i have taken the exam twice but i failed?
---
Christian
United States
Jun 20, 2018
@ritchie, i av usedseveral practice tests for comptia a+ 901,,, i can confirm that 95% are valid. do nt rely only on one source.
---
rodgers
do not open many comptia a+ 220-901 practice test at once. do one after the other….or else you might end up perceiving it as invalid.
---
memphis
South Africa
Jun 17, 2018
I have just managed to pass 220-901 exam. the truth is ….220-901 questions and answers helped me. Several questions were as the ones available in the practice tests.
---
johny
can sb upload the premium files tat r designed 4 comptia a+ 220-01 exam. i nid them so urgent please.
---
william
comptia a+ 220-901 dumps (free one) need to be improved. it does not cover the several important topics of the main exam.
---
hedges
a+ 901 practice test is good and straight to the concept, only the exam turned against the course outline. dont stop using them.
---
dharmalingham
plz share valid 220-901 brain dumps if there is any.
---
raju254
South Africa
May 31, 2018
Only several queries appeared from 220-901 practice test. i was opful tat the exam will favor me but it wz unfortunate.
---
rastogi
hello, comrades? anyone wid a collection of 100% valid 220-901 dumps,,,,,I am tired of opening invalid dumps.
---
LOVI
please someone to share how to pass comptia a+ 901 exam. i need the material urgently.
---
ritchie
anyone hu has used the comptia a+ 901 practice test,,,? plz confirm if they are valid.
---
agnes
i value comptia a + 220-901 exam dumps for the general revision. i used it to practice and ended up with appealing results.
---
bildad
Premium files for a+ 901 practice test was detailed than the any other 220-901 exam dumps i av used before.


CompTIA A+ 220-901 CompTIA A+ (220-901) exam dumps & updated practice test questions to study and pass quickly and easily.
100% Free Real A+ CompTIA 220-901 CompTIA A+ (220-901) practice test questions uploaded by real users who have passed their own exam and verified all the incorrect answers.
CompTIA A+ 220-901 CompTIA A+ (220-901) practice exam dumps & training courses in VCE format in order to pass the exam.
You need Avanset VCE Exam Simulator in order to study the CompTIA A+ 220-901 exam dumps & practice test questions.

How to Open VCE Files
Use VCE Exam Simulator to open VCE files.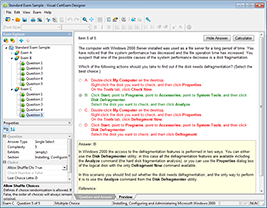 220-901 Training Products
220-901 Premium File
597 Questions & Answers

Instant Download

$69.99