CompTIA 220-1001 Tests
Exam: CompTIA A+ Certification Exam: Core 1
Free 220-1001 Exam Questions in VCE Format

File
Votes
Size
Last comment
2
460.61 KB
4
1.08 MB
Nov 01, 2019
5
445.57 KB
Aug 07, 2019
7
1.21 MB
Jun 13, 2019
9
48.15 KB
Mar 30, 2019

Comments
* The most recent comments are on top.
* Please post your comments about 220-1001 CompTIA Exam. Don't share your email address asking for CompTIA 220-1001 dumps or 220-1001 pdf files.
---
M
United States
Dec 27, 2019
Use 901 dumps too. 901 and 1001 exams are about 80% same
---
Ali
There are 5 files to download, does premium offers more than 5 files ?
---
tim
United States
Dec 09, 2019
12/6/19 passed with a score of 720
there are new questions. memorize your ports guys. there's a tablet simulator question that wasn't in the premium dump. my guess is that there were about 10 new questions. i used the premium dump.
---
Safei
Can anyone share the VCE Exam Simulator link to download
---
Nixson
Premium dumps still valid. Answered on 1st Oct.
Score achieved - 765.
New questions noticed - 7
---
sam
United States
Sep 29, 2019
Are the free dumps any good?
---
Randy N
United States
Sep 10, 2019
Passed today with a 788. Used premium file. Just be aware that a couple of the simulations are incomplete - so do some extra research if the answer seems off.
---
SkriptKiddie
Saudi Arabia
Aug 16, 2019
Premium dumps are valid.
---
Mel
United States
Jul 28, 2019
I passed the 901 the 2nd time and failed the 902 twice.I wanna know when yall say premium are you referring to the free ones or the $69.99 one?
---
Ajmal
United States
Jul 12, 2019
The premium file is still valid
---
Samson
United States
Jul 11, 2019
The dumps are still valid but you need to practice for the scenario-based questions. I narrowly passed today with scores of 675. the required score is 675.
---
Ebhrahim Shaikh
Just passed with updated premium version. Scored 736
---
Hamza
United States
Jul 06, 2019
Premium dump is valid. Passed my exam with 718 score. Passing score 675 & total questions 78 & 90 minutes exam time. 6 New questions and some of the free dumps answers are also not correct so make sure you use online resources to choose correct answers.
---
Emmanuel
United States
Jul 05, 2019
Premium Dumps still valid. Passed today with score 736. 80% accurate with a few new questions
---
Mahmoud
premium dump still valid guys. Passed today with 730 Score but there still few new questions .
---
Examcollection
United Kingdom
Jun 11, 2019
@T'Charles,
Thanks for contacting us.
There are 132 questions in the file.
---
T'Charles
United States
Jun 10, 2019
I'm I understanding correctly, to download CompTIA A+ 220-1001 it cost $69.00 & there are only 78 questions total?
---
Yogita
I download 1001 file and it has only 38 question plz help me
---
Elon
Premium file is valid, passed with 750 score.
---
Fredrick
Premium questions showed 98% similarity with the real exam but I rechecked some of the answers.
---
MADDY
@Dfyf Where did you buy the question bank? Is it an accurate exam question bank? After reading it, can you pass the exam easily?
---
Ajmal Sarwari
United States
Apr 16, 2019
Hello guys, anyone recently used this premium package? If so please let me know. Which should go with? Thanks.
---
Patrick
United States
Apr 13, 2019
Hi guys I need some clarity, I heard most of people saying COMPTIA a+ exams has 1000 questions and passing score is 645, so now I'm confused when you say it has 78 questions, which one is true or perhaps I'm lost??
---
Dfyf
South Africa
Apr 09, 2019
Yes guys I just wrote 1001 on the 27 March its 78 questions
---
Deepan
Hey Prince K,
Is premium dumps are still valid?
Please advise if rely on this only or you study other dumps to.
please let me know...
Thanks
Deepan
---
Sam
Is premium dumps are still valid?
---
hector
United States
Mar 16, 2019
you only going to see 78 question if you use vce simulator from avanset. i oponed with vce A+ application only saw 38 question. with avanset vce i see 78
---
Examcollection
United Kingdom
Mar 12, 2019
@Sam,
It looks strange. It will be better to contact at support@examcollection.com and describe your problem there. Please, attach your snapshots.
---
Sam
I have just downloaded the premium file and uploaded on vce trainer and it still shows 38 questions. If you woild like, I can send you snapshot of it.
---
Examcollection
United Kingdom
Mar 11, 2019
@Sam,
There are 78 questions in the premium file, we checked it. 38 questions are contained in a free file uploaded by Monica.
---
Sam
Premium file just have 38 questions, Can you please look into it? It shows 78
---
Prince K
United States
Feb 23, 2019
Premium file valid. Passed today with 805 score. 5 new questions...


CompTIA 220-1001 CompTIA A+ Certification Exam: Core 1 exam dumps & updated practice test questions to study and pass quickly and easily.
100% Free Real CompTIA 220-1001 CompTIA A+ Certification Exam: Core 1 practice test questions uploaded by real users who have passed their own exam and verified all the incorrect answers.
CompTIA 220-1001 CompTIA A+ Certification Exam: Core 1 practice exam dumps & training courses in VCE format in order to pass the exam.
You need Avanset VCE Exam Simulator in order to study the CompTIA 220-1001 exam dumps & practice test questions.

How to Open VCE Files
Use VCE Exam Simulator to open VCE files.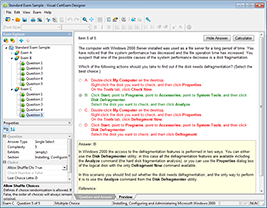 220-1001 Training Products
220-1001 Premium File
173 Questions & Answers

Instant Download

$69.99
220-1001 Training Course
130 Video Lectures

Watch Online

$24.99
220-1001 Study Guide
1994 PDF pages

Instant Download

$24.99