RedHat EX200 Tests
Exam: Red Hat Certified System Administrator (RHCSA)
Free EX200 Exam Questions in VCE Format

File
Votes
Size
Last comment
5
148.92 KB
Nov 20, 2019
1
116.38 KB
2
96.24 KB
Sep 30, 2018
4
16.86 KB
Jul 08, 2018
8
17.82 KB
Jun 20, 2018
2
18.59 KB
7
33.27 KB
Jul 17, 2015
7
36.22 KB
Sep 14, 2015
18
43.88 KB
Jul 08, 2017
18
85.08 KB
Nov 23, 2015
8
20.44 KB
Dec 25, 2014

Comments
* The most recent comments are on top.
* Please post your comments about EX200 RedHat Exam. Don't share your email address asking for RedHat EX200 dumps or EX200 pdf files.
---
nawaz
This dump cover the 7-8 version. and exam practise test?
---
babu
now it is on version 8 and the code is EX200V8K . will this premium file has the questions for this.
---
Kirtan
H Friends is this dumps valid still
anyone tried this recently please update.
---
abdul
any updates on redhat dumps? noone can confirm whether they are valid or not.
---
Jogo
Can anyone confirm whether the premium dump is valid?
---
ali
please advice me I am going to write exam end of the month.
---
sladdythebrain
Hallo, dies anyone know if the premium dump is valid? Or is someone with a valid dump out there willing to share?
Thx
---
Sri
United States
Jun 20, 2018
I am planning to appear for RHCSA, can anyone please suggest which one of the dump given here is valid?

Thanks
---
Magret Abuka
Hi pple, I am almost takin my first exams pls help me know where I can find good some good resource for my rhcsa exam questions 2018.
---
Jose
@robert I am not sure of script writing but my advice is that u prepare for it. Remember scripting is extremely useful for a linux sys admin as it saves a lot.
---
RMT
Thank you bro, I received a score of 300/300 which was really awesome. Finaly I got to pass the exam that was really tough. Thanks for the dumps and the exam questions you sent me to help me prepare. Hope will get more guidance from you again.
---
Robert
Hi mates, I will be taking my rhcsa exams this next week. Just wanted to know how to bash a script. And for those who have utaken the exams before how was it? Was script writing tested?
---
Jean Paul
Just passed my exams. I used the rhcsa exam questions that I found here and they realy helped me a lot. 80% of what I got there helped me answer my questins and scored high.
---
Pate
I am preparing for my exam soon. If anybody has rhcsa exams dumps that can help in preparation of exams to kindly assist pleas.
---
Tery
@venesa rhcsa questions are not technically challenging. If you are a linux user it's not a must u take the training.
---
Jack Collins
South Africa
May 26, 2018
Hi @venesa I as for me I passed my exams without training. I simply used rhcsa dumbs to prepare for my exams. if u are interested on the dumbs that I used maybe u get back to me to link u up
---
Venesa Williams
hi do I need training from redhat to sit for my exams or should I just buy certificate guide?


RedHat RHCSA EX200 Red Hat Certified System Administrator (RHCSA) exam dumps & updated practice test questions to study and pass quickly and easily.
100% Free Real RHCSA RedHat EX200 Red Hat Certified System Administrator (RHCSA) practice test questions uploaded by real users who have passed their own exam and verified all the incorrect answers.
RedHat RHCSA EX200 Red Hat Certified System Administrator (RHCSA) practice exam dumps & training courses in VCE format in order to pass the exam.
You need Avanset VCE Exam Simulator in order to study the RedHat RHCSA EX200 exam dumps & practice test questions.

How to Open VCE Files
Use VCE Exam Simulator to open VCE files.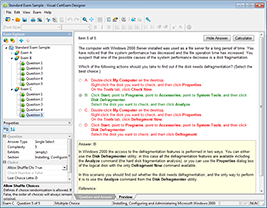 EX200 Training Products
EX200 Premium File
111 Questions & Answers

Instant Download

$69.99
EX200 Training Course
71 Video Lectures

Watch Online

$24.99
EX200 Study Guide
1601 PDF pages

Instant Download

$24.99