Download HP.ActualAnswers.HP0-S35.v2013-02-27.by.Maya.90q.vce

| | |
| --- | --- |
| Exam: | HP0-S35 - Implementing HP BladeSystem Solutions |
| Size: | 3.48 MB |
| # of downloads: | 9 |
| Free Download: | |





Comments
* The most recent comments are at the top.
---
---
---
onix
Sweden
Feb 27, 2013
Q13 A customer has a c7000 blade enclosure with several HP ProLiant blade Gen8 servers installed in an HP 10636 G2 rack The customer ordered * this blade configuration and it needs to be installed in this rack
What is the best installation method?
a) Move the c7000 to the top of the rack and install the UPS R800X)/3 at the bottom of the rack for proper weight balance
b) Install the UPS R8000/3 in a separate HP 10636 G2 rack
c) Install the UPS R8000/3 at the top of the rack to provide weight balance
d) Move the c7000 up in the rack and install the UPS R8000/3 at the bottom of the rack just below the c 7000

Q14 What is the fastest way to verify SAS drive firmware before installing an operating system
a) Firmware DVD
b) integrated Lights Out
c) BladeSystem Release Set
d) HP Smart Update Manager (SUM)

Q15 A customer's environment has Insight Remote Support. You just installed a new Windows server and discovered and configured it within the Insight Remote Support user interface.
What is the safest way to validate that events will flow correctly?
a) Send a test trap or test indication from the System Management Homepage of the Central Management Server.
b) Send a test trap or test indication from the System Management Homepage of the monitored Windows server
c) Pull a drive from the monitored Windows server
d) Pull a fan from the monitored Windows server.
---
onix
Sweden
Feb 27, 2013
Q10 You are at a customer site and need to add new VLANs to an existing Virtual Connect domain. The Virtual Connect Manager displays a message that locked. and there is a do not pass sign at the top of the web interface
What could cause this?
a) The VC domain reached the maximum number of VLANs
b) The VC firmware is on an old firmware revision
c) The VC domain is locked by Virtual Connect Enterprise Manager
d) You do not have the proper rights .to make any VC domain changes

Q11 An administrator is concerned about losing the enclosure setting and configuration if the Onboard Administrator (OA) fails. What is the best available option?
a) Capture the screen shots of insight Display.
b) Capture the screen shots of c7000 enclosure settings through the
c) Capture the configuration scripts of Virtual Connect Manager.
d) Capture the Active Health System of all blade servers
e) Capture the Configuration Scripts through the OA

Q12 Which product should you use to turn the D2200sb into an iSCSI SAN for use by all servers in the enclosure and any server on the network?
a) SB40C Storage
b) HP P4000 Virtual SAN Appliance (VSA) software
c) HPP2000saG3
d) HP X3800sb G2 Network Storage Gateway Glade
---
onix
Sweden
Feb 27, 2013
Q6 A customer requirs the onboard network ports on a ProLiant BL460c Gend Windows 2008 R2 server to be bonded together for impruwed performance and redundancy
What should be used to configure this?
a) Onboard Administrator Enclosure Bay IP Addresing
b) HP Network Configuration Utility
c) Windows 2008 Server Manager
d) Onboard Administrator VLAN Setting

Q7 You are at a customer's site configuring two c3000 enclosures with Flext10 modules Both enclosures are in the same room and will be hooked up to the network switches The customer does not plan to use Multi Enclosure Stacking, and does not have a Virtual Connect Enterprise Manager License
To configure the Virtual Connect domains, what should you do regarding the MAC address ranges?
a) Use a different range for each enclosure to avoid duplicate MAC addresses.
b) Set up the enclosure link and configure one range for both enclosures
c) Use a predefined range for one enclosure and manually define the second enclosure
d) Use the same range for each enclosure to simplify management

Q8 administrator has just installed the latest service pack for Microsoft Windows Server 2008 R2 What else needs to be done to keep the server upgrade
a) Delete the temporary install files
b) Uninstall Microsoft patches
c) Remove older security updates
d) Re-install the ProLiant Support Pack or HP Service Packs for ProLiants.

Q9 Which component is only required on the monarch blade module of an HP integrity i2 server?
a) memory
b) management processor
c) scalable memory buffers
d) ICH mezzanine card
---
onix
Sweden
Feb 27, 2013
Q1 Which Advanced Memory Protection technology should be configured in an HP ProLiant Blade G7 Server to provide protection against eighth
a) Online Spare
b) Advanced Parity
c) ECC
d) Lockstep

Q2 A customer has an LT04 tape drive connected to an HP DL380 server The customer wants to integrate a new backup solution into an HP BladeSystem enclosure and maximize capacity
Which HP product should be recommended7
a) x3800sb
b) S81760C
c) S83000C
d) SB920c

Q3 The customer wants to use a software RAID for the internal disk of the BL860c i2. What must be done?
a) Use drvcfq to configure two individual disks
b) Use ORCA to configure two individual disks.
c) Use saconfig to set the Controller to HBA mode.
d) Use saupdate to set the Controller to HBA mode.

Q4 A customer has a standard HP ProLiant BL680c server and wants to integrate an online mirror split in local storage RAID1
Which action needs to be performed?
a) Upgrade to an HP P711 Smart Array controller
b) Apply an HP Smart Array Advanced Pack license
c) Add 1 GB flashed-backed write cache
d) Expand the array with two additional disks drives.

Q5 What is required to configure an HP ProLiant BL460c Gen8 memory in lock-step mode?
a) Memory channel three must be empty
b) RBSU must be changed to disable DIMM low voltage mode
c) Only DIMMs with 1066 MHz native speed can be used,
d) All DIMMs must be dual rank.
Report Comment
| | | |
| --- | --- | --- |
| Verify: | | |



How to Open VCE Files
Use VCE Exam Simulator to open VCE files.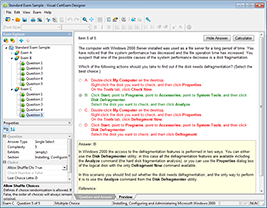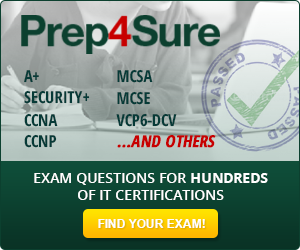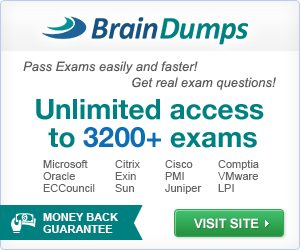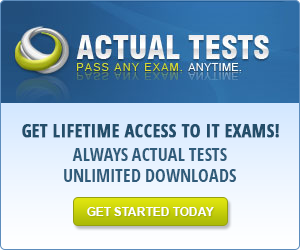 Only
Registered
Members Can Download VCE Files
Please fill out your email address below in order to Download VCE files or view Training Courses. Registration is Free and Easy, You Simply need to provide an email address.
Trusted By 1.2M IT Certification Candidates Every Month
VCE Files Simulate Real exam environment
Instant download After Registration.
A confirmation link will be sent to this email address to verify your login.
Already Member? Click Here to Login

Log into
your
ExamCollection
Account
Please Log In to download VCE file or view Training Course
Only registered Examcollection.com members can download vce files or view training courses.
Registration is free and easy - just provide your E-mail address. Click Here to Register

DO YOU HAVE A
VCE
PLAYER
?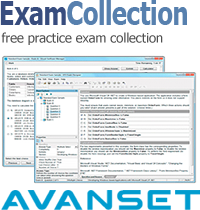 Your file is being downloaded.
All tests on this site have been created with VCE Exam Simulator.
VCE Exam Simulator is interactive testing engine developed for certification exam preparation.
Files with VCE extension can be opened with this program.
Before you can open any file on this site you will need to download VCE Exam Simulator

Log in to make your opinion count.
Only registered Examcollection.com members can rate files.
Registration is free and easy - just provide your E-mail address. Click Here to Register