Google Professional Cloud Architect Tests
Exam: Professional Cloud Architect on Google Cloud Platform
Free Professional Cloud Architect Exam Questions in VCE Format

File
Votes
Size
Last comment
5
503.5 KB
Apr 16, 2019
3
356.31 KB
20
304.06 KB
Oct 16, 2019
1
305.85 KB

Comments
* The most recent comments are on top.
* Please post your comments about Professional Cloud Architect Google Exam. Don't share your email address asking for Google Professional Cloud Architect dumps or Professional Cloud Architect pdf files.
---
Georgege
Premium valid in Thailand!
---
Dolapo
United Kingdom
Jan 06, 2020
Has anyone had any recent success with the premium file please
---
Examcollection
United Kingdom
Nov 20, 2019
@Alex,
Thanks for contacting us.
Please, choose "Premium File" from the right menu on the exam's page ("Training Products") and click on "Buy Now": https://www.examcollection.com/Professional-Cloud-Architect.html
---
Alex
I can't see a premium dump file, only the free ones. Can someone confirm?
---
Alexo
Please confirm if the premium dump is still valid
---
alex
can you confirm when was the premium updated?
---
dave
@rubje how many answers are not similer?
---
Seun
United Kingdom
Jul 08, 2019
@rubje Please, do you mean the answers in the premium file needs to be rechecked but that the questions in the premium file are the same as the ones in the exam?
---
rubje
I did take the exam this month (june 2019) all the questions from the exam are in the premium dump. rechecked answers in the dump file
---
Sures
Is this dump still valid ?
---
Rishikesh
@hirji
can you please share dumps with us. Or the way to get valid dumps.
---
Suresh
Can some one share Google Cloud Architect Exam dumps ?
---
Rishikesh Chandrashekhar Gaikwad
Can somebody pls provide me valid dumps.
Thanks and well wishes is advance.
---
phil
@miguna, please check this link…. https://www.avanset.com/ ,,,,your perfect plan for google gcp cloud architect exam.
---
donald
please revise well comrades. These google cloud architect premium files help and are 80-85% valid.
---
miguna
i have tried to use A+ player to open vce google cloud architect file but they cannnt work,,, i think vce player can do. anyone with the setup,,?
---
walibora
@said, i need such google practice dumps urgently.
---
hirji
wow! the xam wasn't that easy but i passed it highly. examcollection gcp practice tests are helpful. utilize them.
---
saeedd
i av several gcp questions and answers, who's in need.
---
nelson
i had sleepless naits goin thr' diz google cloud architect exam dumps but I ended up failing. there were more thn 20 questions unfamiliar at all…i guez they aren't valid.
---
rodgers
i used the gcp premium files. i cannot believe i have just scored the best.
---
suleiman
@mathews, some of them are not valid. check other gcp exam dumps uploaded here.
---
wahome
@mathews, you can't xpect all GCP cloud architect dumps to be 100,,,the rest are yours to find out.
---
rojo
hello? here is the secret to help you utilize the google cloud architect premium files. use the vce simulator.
---
mathews
I have found out that these google cloud architect dumps are not 100% valid.
---
Jeff
Google cloud architect exam questions and answers are very related to that of the main exam. i went through several of them just before I sat for my exam. i am happy that i passed,
please do utilize examcollection.com for better performance. thank you.
---
mapesa
South Africa
May 11, 2018
plz share anything u feel important 4 our colleagues preparing 4 an exam. be it Google cloud architect practice test or anything, so long as it is important.
---
ekhoto
United States
May 08, 2018
hi comrades? Use google cloud architect exam dumps. They r beneficial,,,!


Google Professional Cloud Architect Professional Cloud Architect on Google Cloud Platform exam dumps & updated practice test questions to study and pass quickly and easily.
100% Free Real Google Professional Cloud Architect Professional Cloud Architect on Google Cloud Platform practice test questions uploaded by real users who have passed their own exam and verified all the incorrect answers.
Google Professional Cloud Architect Professional Cloud Architect on Google Cloud Platform practice exam dumps & training courses in VCE format in order to pass the exam.
You need Avanset VCE Exam Simulator in order to study the Google Professional Cloud Architect exam dumps & practice test questions.

How to Open VCE Files
Use VCE Exam Simulator to open VCE files.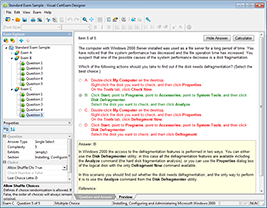 Professional Cloud Architect Training Products
Professional Cloud Architect Premium File
168 Questions & Answers

Instant Download

$69.99
Professional Cloud Architect Training Course
63 Video Lectures

Watch Online

$24.99