Pass Your CAHSEE Test Easy!
Get 100% Real Test Questions, Accurate & Verified Answers By IT Experts
Fast Updates & Instant Download!
CAHSEE Exam Facts
CAHSEE California High School Exit Examination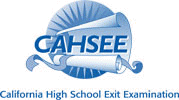 For high school students in California, life is a bit tougher than for their peers in most other states. Besides the standardized college assessment exams like ACT or SAT, California high school senior ere required to take the CAHSEE (California High School Exit Examination) in order to graduate.
The CAHSEE contains three sections: Reading, Writing, Mathematics. Neither of the sections is too complicated as the goal of the exam is to make sure that students can demonstrate the knowledge acceptable according to the level of education in California. The CAHSEE exam mostly contains multiple-choice questions.
The Mathematics section covers the entire high school program in math on the average level. This means that there are no questions based on the advanced placement and college-level classes, like Calculus etc. CAHSEE tests the knowledge of fundamentals of algebra, geometry, trigonometry, probability and statistics. In the Writing section of the CAHSEE exam, students have to demonstrate their writing skills, including their vocabulary, grammar and writing coherence. In the Reading Section of the CAHSEE, students are given excerpts which they have to read and understand, and then be able to answer questions related to what they have read.