ATTENTION! IBM Certified Application Developer – Cloud Platform v2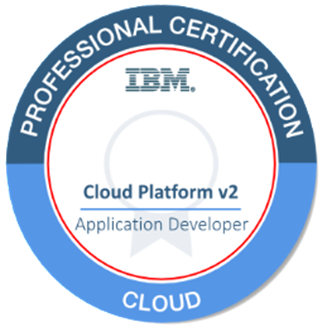 IT specialists didn't have enough time to pass the previous IT certification exam IBM Certified Application Developer – Cloud Platform v1 as IBM releases another great exam called IBM Certified Application Developer – Cloud Platform v2.
This exam is a solid foundation for your career in IT sphere.
This new certification test is for candidates who want to upgrade their skills and their proficiency level. It can give a remarkable opportunity to create applications on IBM Bluemix. If you understand how to build applications by deploying their code on Bluemix compute platforms and extending them through managed services, this new exam is definitely for you.
But it's too early to rejoice and think that it's like taking candy from a baby. Here you can see the key areas of competency:
Planning and implementing cloud ready applications.
Enhancing cloud applications using managed services.
Managing applications using continuous delivery toolchains and other Bluemix services.
So, are you competent in these areas? If your answer is positive, you can read this article till the end. The rest of candidates can search for the other IBM exams to improve their knowledge.
But which knowledge MUST you have to attain IBM Certified Application Developer – Cloud Platform v2?
1. Working knowledge of:
developing an application using IBM Bluemix
the 12-factor application methodology
core Cloud services (caching, messaging and object storage)
Cloud-based continuous delivery methods
Cloud operations services (scaling, monitoring, logging)
open technologies like Cloud Foundry, Containers, and Git-based repositories
2. Understanding of:
serverless computing platforms and OpenWhisk
Watson Cognitive service capabilities
Cloud security practices (authentication, API key security, data security)
3. Basic knowledge of:
application development using Node.js
common web technologies such as html, Javascript, and css
Now you should pass only one test to verify this – Test C5050-384 – IBM Cloud Platform Application Development v2.
This test, which gives you a great chance to earn the IBM certification, consists of 56 questions and is an hour and a half long. It requires passing score 70%.
Remember! The more IT certifications you earn, the more you feel self-reliant and confident about the future.
P.S. Do you want an IBM Open Badge?! So, the only thing you should do is to complete the certification. After that simple act you can share your credential to social networks. More than 70% of badge earners say an IBM Open Badge improves their career opportunities.