What Is IoT (Internet of Things), and Why Does Everyone Talk About It?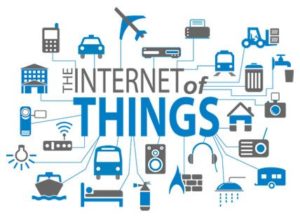 Internet of Things, or IoT, has become the latest tech buzzword. What is this strange term everyone is talking about, and, as an IT professional, should YOU care about it?
To put it short, YOU SHOULD care because you can build your career around this. The concept of the IoT and its enterprise potential has gotten so big that Cisco has recently launched the IoT specialist certification, which we'll discuss later on in this post.
What is the Internet of Things?
Internet of Things, also referred to as Cloud of Things(CoT), implies the interconnection of devices with unique identifiers (IPs) and the ability to transfer data over a network without requiring human-to-human or human-to-computer interaction. IoT has evolved from the convergence of wireless technologies, micro-electromechanical systems (MEMS), the Internet and cloud computing. IoT can refer to various devices, including home appliances, like smart thermostats and washers that utilize wifi for remote monitoring, medical devices like heart monitoring implants, automobile built-in sensors, biochip transponders on farm animals and much more.
Although the idea of putting a multitude of devices online isn't new and has been around for decades, the growth of IoT today is caused by the IPv6 and its endless possibilities for unique IPs.
This TED talk by Dr. John Barrett is a good explanation of the IoT:
As an IT Professional, How Can I Benefit from the IoT?
Do you remember how some years ago everyone kept talking about the cloud and cloud computing, and putting 'cloud' on your LinkedIn profile would quickly boost your popularity among employers? Well, now it's the case with the IoT. Businesses keep talking about it, although not everyone understands how it can be maximized and monetized upon. For example, many businesses are under the impression that they need to store their IoT data, which isn't really the case. This recent Forbes article has some nice insights.
For those willing to work in IT companies, it's worth pointing out that the IoT is one of the most financially significant market transitions that manufacturing companies have faced in recent memory. According to the Internet of Everything Value Index, more than $14 trillion dollars of economic impact will come to the global economy over the next 10 years. Within this timeframe there is a $3.9 trillion opportunity for manufacturers around the globe.
Cisco IoT Certification
Therefore, if you are looking for a field to focus your career on, the IoT may be a great option. In fact, just a few days ago Cisco has released an IoT certification: The Cisco Industrial Networking Specialist certification. It targets IT and operational technology (OT) professionals who install, maintain, and troubleshoot industrial network systems in the manufacturing, process control, and oil & gas industries. This credential validates that the holder can manage and administer networked industrial control systems. It provides plant administrators, control system engineers and traditional network engineers with an understanding of the networking technologies needed in today's connected plants and enterprises.
Unlike other industrial networking programs, this certification tests the hands-on skills through simulations as well as testing theoretical knowledge. With this approach Cisco ensures that candidates are ready for real-world implementations.
Although the Cisco Industrial Networking Specialist certification doesn't have any formal prerequisites, candidates should have the knowledge and experience in operations technology. To achieve this certification, candidates need to pass the 600-601 IMINS exam: Managing Industrial Networks with Cisco Networking Technologies.
This exam covers the OSI layers of IP networks, networking devices like routers and switches, as well as cabling approaches; specific industrial devices such as drives, PLCs, sensors, and substation equipment; relevant industrial standards and models such as TIA, the Purdue model, and environmental standards; and various safety protocols important in an industrial zone.
600-601 IMINS Exam Topics and Their Weight
Install, Replace, and/or Remove an End-Device: 15%
Install, Replace, and/or Remove an Infrastructure Device: 23%
Install, Replace, and/or Remove Cables (Network and/or Power): 10%
Troubleshooting: 35%
Maintain Appropriate End-Devices and Industrial Network Infrastructure Devices: 17%
Complete list of topics can be downloaded on the Cisco Learning website here.
Summing up
After you achieve the Cisco Industrial Networking Specialist certification, you may want to consider some top level security certifications, as one of the main IoT-related concerns is the range of security challenges. Yet, this is a topic for a whole new article we'll be sure to write.
So, the Internet of Things is a huge change, which brings an amazing potential to the world and the industry. As an IT professional, you should consider the potential it has for your career. Why not look into that 600-601 exam now?