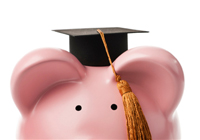 What's on your 2014 certifications list? If you are still undecided as to where to take your career, here are top 5 certifications we project to be booming this year. They have been chosen based on the employer demand, salary and career growth potential and projections for 2014. While the list is definitely not exhaustive and it's worth remembering that the potential depends on your job role, potential employers, your area etc, keeping these 5 certifications in mind may be useful in 2014:
1.      PMI Risk Management Professional
Project management has grown into an independent industry, with its own professional standards. For risk management professionals, the PMI Risk Management Professional certification is one of the most recognized. It "fills the need for a specialist role in project risk management," according to the Project Management Institute.
2.      Information Systems Security Engineering Professional (ISSEP/CISSP)
With ISSEP-CISSP being on the list of top paid IT certifications, this one shouldn't be ignored. According to the (ISC)2 organization, the ISSEP-CISSP concentration was developed with the U.S. National Security Agency (NSA). The Information Systems Security Engineering Professional concentration "is the guide for incorporating security into projects, applications, business processes, and all information systems." To earn the ISSEP, you must successfully pass one exam while holding a CISSP credential in good standing.
3.   MCPD: Windows Phone Developer
No IT Certification list can be complete without Microsoft, right? With the Windows Phone share in mobile market projected to grow tremendously in 2014, this is the place to grow for those interested in Mobile Development for a platform with the highest growth potential in 2014.
4. Program Management Professional (PgMP)
This is another certification from PMI with a great earnings and career development potential. Experienced project managers often pursue the Program Management Professional (PgMP) certification. "Credential holders," says the Project Management Institute, "oversee the success of a program, grouping related projects together to realize organizational benefits not available if they were managed separately. It's the perfect fit if you define projects, assign project managers and oversee programs." The requirements for application include four years of project management experience and four years of program management experience.
5. Red Hat Certified Architect (RHCA)
A Red Hat Certified Architect (RHCA) has attained the highest level in Red Hat's certification program. In order to earn the cert, applicants must successfully complete a number of other Red Hat certifications.
Now, what are you certification plans for 2014?