CompTIA N10-007 Tests
Exam: CompTIA Network+ 2018
Free N10-007 Exam Questions in VCE Format

File
Votes
Size
Last comment
3
876.18 KB
Dec 09, 2019
4
596.99 KB
Nov 16, 2019
6
573.52 KB
6
507.41 KB
Jun 04, 2019
6
468.23 KB
7
517.75 KB
May 02, 2019
30
183.37 KB
Jun 11, 2019
7
132.98 KB
May 02, 2019
1
170.29 KB
18
165.34 KB
Sep 27, 2018

Comments
* The most recent comments are on top.
* Please post your comments about N10-007 CompTIA Exam. Don't share your email address asking for CompTIA N10-007 dumps or N10-007 pdf files.
---
Katrina
United States
Jan 22, 2020
Anyone use the dumps recently? How valid it is? Please advise!
---
John
United States
Nov 14, 2019
Can Someone please verify 447q premium valid still? Thank you!
---
Ray
United Kingdom
Oct 24, 2019
Thank you Rokas...Appreciate you!
---
Rokas
Premium valid 95 proc. Exam passed today. Most were from 200-350 Q
---
Ray
South Africa
Oct 17, 2019
Is the 355q Premium dump still valid?
---
BradieHawk
United States
Jun 27, 2019
Majed when did you appear in exam?
---
Reinhard Williams
South Africa
Jun 26, 2019
Thanx for the confirmation Majed
---
Majed
Saudi Arabia
Jun 25, 2019
The new premium with 350 question is valid 100%, specially the last 100 questions
---
Reinhard Williams
South Africa
Jun 25, 2019
Greswill Williams where do i find Dump 268?
---
BradieHawk
United States
Jun 20, 2019
Can anyone please confirm the latest dumps (355 Questions)? Is it valid?
---
Vahin
Am about to sit my exams on thursday 007.... Should i believe in this dumps???
---
Erica
United States
Dec 03, 2018
Has anyone taken the exam in the past couple of weeks?
---
fahad
Saudi Arabia
Nov 22, 2018
this dump still valid and i pass to day within 841 from 900
---
Isaac
United States
Oct 19, 2018
The Premium test and dumps are a good way to understand how the questions are structured, some are on the exam itself. Do some studying and understand what you're learning.
---
Victor
United States
Oct 02, 2018
I am planning to take my network + exam next year. Will this 2018 book still be valid if I bought it now. Please, I need advice
---
Michael
United Kingdom
Aug 31, 2018
Can anybody confirm the premium file is valid. I dont want to book an exam if not.
---
Matich
If you truly want to pass comptia network + exam, valid N10-007 braindumps and practice tests have the potential to lead you to your destiny!
---
costa
the dumps are amazing! You don't have to worry about failing N10-007 cert exam as long as you have the most recent as well as updated dumps for this exam.
---
Barbra
I used practice test questions provided to prepare for comptia network + exam. i experienced minimal challenges in tackling the main exam since most of N10-007 exam questions tested were conversant to me.
---
caren
in general practice N10-007 questions and answers are very helpful. they helped me to learn how to approach different types of questions in order to answer them appropriately. i answered all the questions in N10-007 exam with lots of ease. helpful prep material. Recommend.
---
Gigs
@Joachim, N10-007 exam is very tough but I was able to score 82 percent. thanks to the Most High!
---
alaina
I have failed my N10-007 exam in the first attempt. looking forward to using N10-007 dumps and I hope they will help me attain the pass mark.
---
yong
United States
Jun 06, 2018
are N10-007 dumps helpful…what of the premium file for N10-007 exam?
---
liu
I was lucky to have found this N10-007 practice test since most of the questions examined in the main exam were familiar to me. don't ignore practice tests relevant for N10-007 whenever you come across them. utilize them and get to learn about the exam!
---
Natalia
I found CompTIA network+ N10-007 dumps to be helpful. they contain questions as well as answers similar to that of the real N10-007 exam. i used these dumps in my preparation for N10-007 exam and now I have a good grade to smile about!
---
Josephine
CompTIA Network+ N10-007 practice test is really amazing. it actually has all questions related N10-007 exam topics. these questions help to check your readiness for the actual exam. Just pick a copy and better your grade!
---
Pedro
@mohamed, i passed CompTIA Network+ N10-007 exam last month. I recommend you to utilize the brain dumps available for this exam and they really helped me. i managed to score 79 percent. And I'm very happy indeed!
---
mohamed
United States
May 13, 2018
i have N10-007 exam in few days. I need someone to help me perform well in it. give me the tips and tricks on how pass the exam.i need to know which areas need thorough preparation.


CompTIA Network+ N10-007 CompTIA Network+ 2018 exam dumps & updated practice test questions to study and pass quickly and easily.
100% Free Real Network+ CompTIA N10-007 CompTIA Network+ 2018 practice test questions uploaded by real users who have passed their own exam and verified all the incorrect answers.
CompTIA Network+ N10-007 CompTIA Network+ 2018 practice exam dumps & training courses in VCE format in order to pass the exam.
You need Avanset VCE Exam Simulator in order to study the CompTIA Network+ N10-007 exam dumps & practice test questions.

How to Open VCE Files
Use VCE Exam Simulator to open VCE files.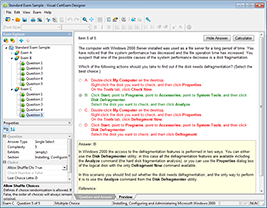 N10-007 Training Products
N10-007 Premium File
455 Questions & Answers

Instant Download

$69.99
N10-007 Training Course
88 Video Lectures

Watch Online

$24.99
N10-007 Study Guide
1577 PDF pages

Instant Download

$24.99