Comparative Analysis: Which PMI Certification Is Better (PMP or CAPM)?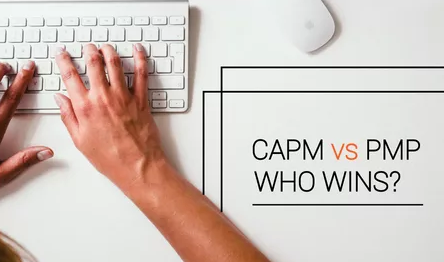 The field of project management is one of the most highly rewarding career paths with the average salary of a project manager netting a little above $75,000 per annum. In addition to this, the professionals in this area are not restricted to a specific industry. Therefore, it is not surprising to see a lot of aspiring PM specialists pursuing the credentials to enhance their career potential.
If you have ever considered obtaining a project management certification, there is a high chance that you are aware of the Project Management Professional (PMP) and the Certified Associate in Project Management (CAPM) certificates, offered by the Project Management Institute (PMI). For many specialists, choosing between these two credentials is a difficult choice to make. If you are in this dilemma, this blog post will help you make an informed decision and understand which of the two is appropriate for your career path.
What Is the Difference Between PMP and CAPM?
The major difference between these two credentials is that PMP is a professional-level certification while CAPM is an associate-level one. The individuals with the PM certificate have some level of experience in the industry and have been recognized as professionals. Hence, PMI PMP is focused on the experienced project managers. On the other hand, the associate level means an entry-level credential. In other words, CAPM can be described as an entry-level certification when compared to PMP. The implication of this is that Certified Associate in Project Management is aimed at those individuals who want to improve their project management skills and earn a validation in the process.
Another difference between these two certificates is the difficulty level of their exams. The test for CAPM is easier when compared to PMP. In addition to this, it has less restrictive requirements and, of course, it is less expensive. Let's delve into the two certification exams properly.
The PMP credential is seen as the gold standard as far as the project management certifications are concerned. Its exam is also believed to be one of the most difficult tests. It is made up of 200 multiple-choice questions and has four hours allocated for its completion. It covers the concepts and principles of the Project Management Body of Knowledge (PMBOK) Guide. The exam content is more than what you simply memorize. Rather, it measures your understanding of the topics and concepts, as well as your ability to apply the theoretical knowledge.
To write the PMP test, you have to pay the exam fee of $405 for the PMI members, and $555 – for the non-members. There are some specific prerequisites. The candidates are required to have a high school diploma or an associate degree or its equivalent. In addition to this, you should have at least 7,500 hours of project management experience and 35 hours of education in the field of project management. An alternative prerequisite is a bachelor's degree or its equivalent 4-year degree, 4,500 hours of PM experience, and 35 hours PM education. To maintain your PMI certification, you have to earn 60 PDUs (Professional Development Units) within three years. You can learn more details about the exam and the recertification process on the official webpage.
CAPM is also based on the PMBOK but it is more focused on understanding the principles and concepts rather than applying knowledge. It is a 3-hour exam consisting of 150 multiple-choice questions. No doubt, the CAPM test is easier than the PMP exam, but it is not so simple. As a matter of fact, the CAPM credential is believed to require more difficult test than many other entry-level project management certificates. To write the CAPM exam, you have to pay the fee of $225 for the PMI members, and $300 – for the non-members. The prerequisites for this certification test include a high school diploma or an associate degree (or its equivalent), and 23 hours of PM education, or 1,500 hours of PM experience. To recertify the CAMP credential, you have to retake the exam every five years. You can learn more about this in the CAPM handbook.
Is It Possible to Upgrade CAPM to PMP?
Unlike many other IT certifications, you cannot upgrade your CAPM to PMP. The two credentials are entirely different. The good thing about it is that CAPM gives you thorough foundational knowledge for the PMP exam. In addition to this, the education hours on project management you have attained for your CAPM can be applied to fulfill the prerequisites for the PMP test.
PMP vs. CAPM: Real World Roles and Responsibilities
A PMP certified professional is qualified for a full time project management role. The individuals have the capacity to manage projects of different sizes. These specialists can pursue the job titles, such as a project manager, a project controller, and a program manager. While working in any of these positions, they are required to take up ownership of large and complex projects. They are also expected to lead their team to project conclusion considering the budget and time.
A CAPM certified professional takes up the entry-level roles. These individuals work as assistant project managers, junior business analysts, or project coordinators. They will be required to apply their skills in coordinating teams, scheduling, and enhancing effective communication among the project team members. With CAPM alone, you are unlikely to head large projects with large budgets. However, if you have significant technical experience, you can still be given a leadership position. Technical experience is of great importance for the job that you received.
PMP vs. CAPM: Salaries
There are a lot of variables that determine salaries, and the PM credentials are just one of them. However, based on the PayScale report, a PMP certified professional can earn an average of $104,000 per annum while a CAPM certificate holder can get about $65,000 per year.
Conclusion
The 'best' in this case is very relative. Both credentials can add value to your resume, and your choice is dependent on your experience and your ability to fulfill the certification prerequisites.