Top 10 Free Cloud Storage Services: Store Your Data in a Safe Place!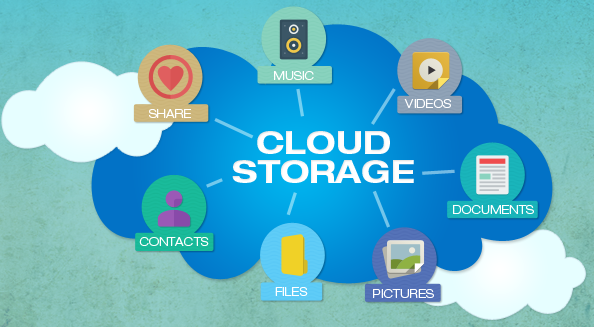 The significance of high-quality online storage services continues to gain popularity as the consumers and businesses are adopting the ongoing digital transformation. The trend will continue throughout 2020 with more dependence on the online storage of files in Cloud. This means that both enterprises and individuals are shifting their focus from local storage hardware and infrastructure to Cloud storage. We present you a list of the ten best free Cloud storage services in 2019 to help you choose the one that suits your needs.
What is Cloud storage and why do you need it?
Cloud storage allows you to store data in a remote area that is accessible from any device. It plays a vital role in improving your productivity and efficiency in terms of backing up important data and ensuring its security. The conventional approach of storing data like hard drives has numerous benefits. But when the storage drive gets attacked by a virus or malware, all data can be lost. So, the utilization of Cloud storage acts as a substitute for the conventional storage gadgets that the businesses can use to store data and backup the files on hardware drives.
Top 10 free Cloud storage services
With numerous options available for Cloud storage, it's important to choose a provider that will give you optimal storage amount and bandwidth while keeping your data secure. In this blog post, we'll share a list of Cloud storage providers that offer the best services for free.
Degoo
Degoo gives you 100GB of free storage space once you set up an account. You can also refer your friends to use the service and get 500GB extra. You receive a storage space of 3GB for every user that creates an account via your referral. While you can choose which files to back up, it is done automatically every 24 hours to ensure your files are up-to-date. Since this software is somehow different than other Cloud storage products, you need to choose a fold on your PC that will accommodate your backed-up files or create a new one. Put your files in the folder that you intend to keep online and then ensure Degoo is running to back up your data online. You can use the Cloud storage account on your PC via the desktop program, or access your data with the mobile app for Android, iPhone, and iPad.
Amazon Drive
Amazon.com offers an online storage product, known as Amazon Drive, that provides its prime members with unlimited photo storage and 5GB of storage space for files and videos. The users can share documents to create a public link that is accessed by any person who uses it, even if they don't own an Amazon account. However, it doesn't support folder sharing. The documents can be uploaded with the desktop client software or web version. It also has a mobile app that lets you upload photos and videos from iOS and Android devices.
MyDrive
MyDrive is another free Cloud storage service but it provides lesser space than most products in this list. While there is no limit to how large uploads can be, you are only allowed to store up 100MB on MyDrive, and this means that the maximum file size should be 100MB. The site is limited, and document sharing is supported only when you give out a guest username and a password. The best thing about this service is that you can download several files in the archive and restore the deleted files up to one month of removing them from your account. The desktop app is accessible for Mac, Linux, and Windows PCs. The IOS and Android apps are available for mobile devices. You can as well connect your MyDrive account via WebDAV.
Jumpshare
Jumpshare comes with a free storage space of 2GB that allows you to upload numerous types of files. When you refer other users to create an account with Jumpshare, you qualify to get free storage of 18GB. The upload limit per file is 250MB. The desktop program allows you to record your screen and take screenshots. The downloadable program is accessible for the Mac and Windows users, iPad and iPhone, and it also supports simple drag and drop and hotkey file-sharing abilities.
Sync
Once you register with Sync, you get free Cloud storage of 5GB. The site allows you to upload several files at once via its interface and desktop, as well as through mobile apps. You can create shared folders that other individuals can interact with and even share files and folders with any person, regardless of whether they are Sync users or not.
OneDrive
This Cloud storage service is offered by Microsoft. OneDrive allows you a free storage space of 5GB once you sign up. You'll get additional hosting by referring your friends to sign up. The service allows you to install a desktop program to transfer files and folders to any OneDrive. This makes them accessible from smartphones. You can also upload photos and videos via a mobile app.
Google Drive
Google Drive is one of the best Cloud storage products from Google. Every new user is entitled to get 15GB of free space. This space is shared with other services such as Google Photos and Gmail. You can use all the space if you don't use these services. The desktop users can install a sync client that supports file and folder uploads. Folders & files can be shared with certain Google users through their email address or any person with a public link. It's available for iPhone, iPad, or Android on smartphones, as well as Windows and Mac on PCs. There is a mobile app that allows you to send videos and images to Google Drive.
FlipDrive
FlipDrive gives you 10GB of initial storage with a chance for additional storage space for every friend you can refer to sign up for this service. It comes with a mobile app that allows you to download files and folders. It also has a web version that allows you to upload huge folders via the site. The product is available for iPad, Windows, iPhone.
Box
Box offers a free online storage space of 10GB. It comes with a mobile app that allows you to download, upload, and share files. It features a sync client that makes it easy to upload files to Box. The users have a chance to share the entire folder of data or choose a specific document to share with a public link. It's available for iPad, iPhone, Windows, Android, and MacOS.
Dropbox
The new Dropbox users have access to 2GB of free storage with numerous means of getting extra space of up to 18GB. You can download and view your files from a mobile app or a desktop and share folders with other people, even if they are not the Dropbox users. If you store your files in Microsoft Office, you can edit them from your browser for free through Microsoft Office Online. It is available for iPhone, Android, KindleFire, and Windows.
Conclusion
Understanding the features of a free Cloud storage service is essential when it comes to finding the ideal one. Numerous services offer you free Cloud storage and come with multiple benefits. They give you excellent UX and impressive features as they allow you enjoy free services after your registration. All you have to do now is choose the best one.