ECCouncil CEH Tests
Certification: CEH
Certification Full Name: Certified Ethical Hacker
CEH Exam Screenshots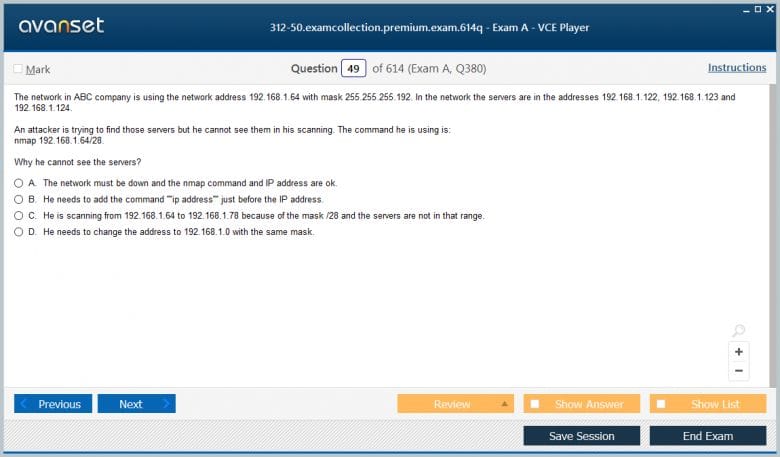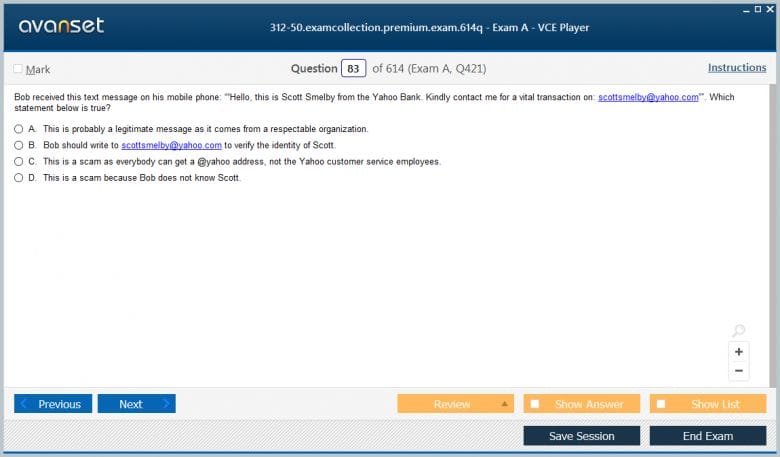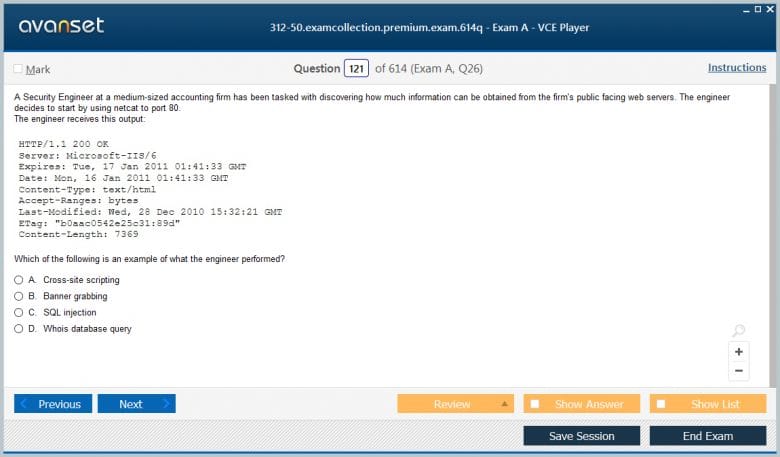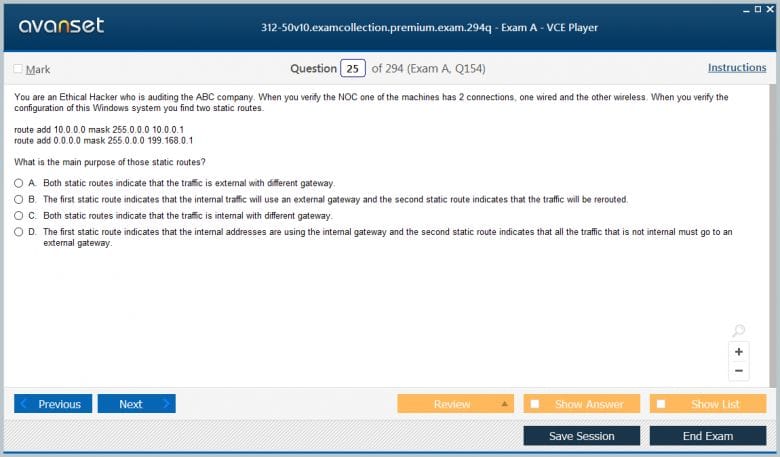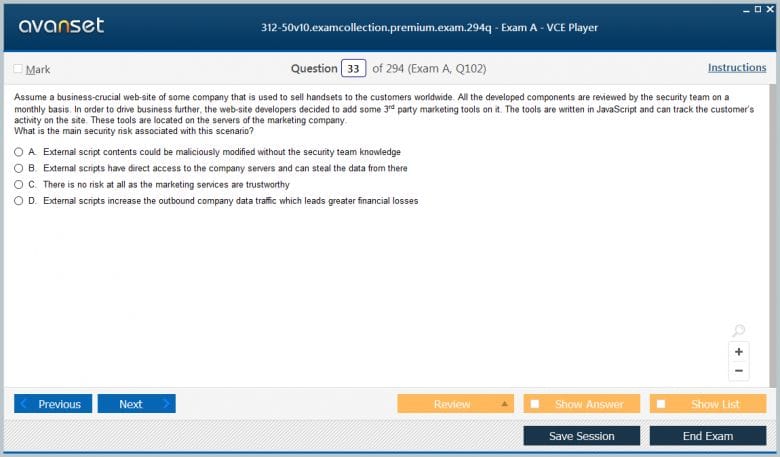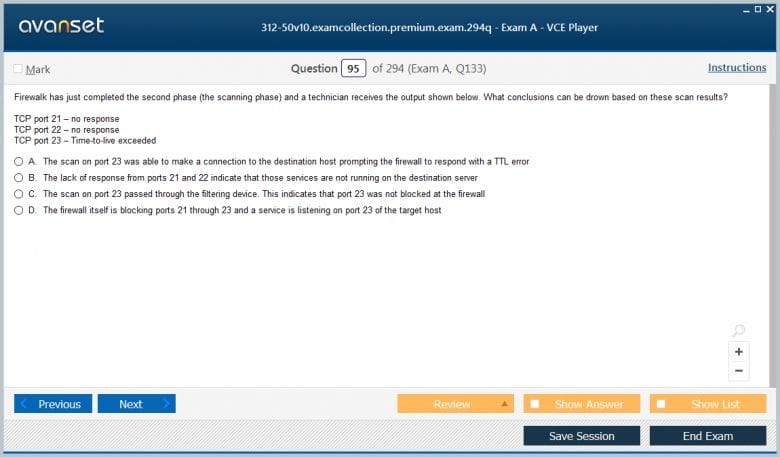 CEH VCE Files

| Exam | Title | Files |
| --- | --- | --- |
| 312-50 | CEH Certified Ethical Hacker (312-50v9) | 48 |
| 312-50v10 | Certified Ethical Hacker v10 Exam | 8 |
| EC0-350 | ECCouncil Certified Ethical Hacker v8 | 6 |

Comments
* The most recent comments are on top.
---
mido
is any one enter exam last days and what is his impressions about exam?
---
pete
ohh my the dumps here are supper good. i love them and have used them for most of my certificates.
---
kenny rodgers
United States
Jun 19, 2018
@ nelly sure they are. i used che test questions there and believe you me it was just like copy paste exams. it easy pasing although i had to apply a little bit of the concept leant.
---
nelly6
who has gone through the vce exam simulator to tell me if the ceh questions were something close to the ceh exams. planning to take my exams soon and need to know how to prepare for it.
---
Jane
hey hii, to anybody who is planning to do his/her exam try ceh v9; certificate ethical hacker version 9 study guide by sean-philip. it's a good book. it has ceh exams questions and answers. i used it in conjunction with what i found on the site and it really helped me. i passed and got 898/900
---
Ruby Irrine
@don charles from my point of understanding, no you don't need it. please try to go through ceh questions and answers on dumps here. however, the scripting skills may come handy depending on why you need this certificate.
---
don charles
@ monick tru true. i have gone through the damps too and they are just perfect. found answers to the ceh exam questions that i have. my only question is on valnurability scan. is it true that one needs to master softwhere programing of hacking? like do i have to do a script writing to understand it?
---
Monick H
i have looked at the study guide here and tried to compare it with what my instractor gave, this is just super good. as one who is preparing a group of students for ceh exams, i find the ceh dumps here easy to understand too. thanks to examcollection


CEH Certification Facts
What Is CEH Certification
Certified Ethical Hacker (CEH) is a certification course to learn the basics of ethical and moral technology hacking. The certified hacker can understand the weak points and compositional errors in every system and break their codes efficiently. However, they only do it for reasons that are morally approved and worthy of doing. Petty hacking or personal identity/information hacking does not fall in the category and is a major prohibition for every CEH certified hacker. The exam is for 4 hours and with 125 questions, succeeding to clear the exam leads to authentic certification. The purpose of CEH certification is to create abilities of ethical hacking to computer technology enthusiast so that they can further help such tasks not to be reinforced in negative angles.

Skills Required
Besides having quality computer programming skills along with technological system knowledge, the hacker also needs to have the moral to understand the course he/she is taking up and to respect the values and responsibilities attached with the course. The individual needs to be wise, composed, persistent and determines. There are no such eligibility criteria related to age, besides the demand to have basic computer software knowledge.

Benefits of This Certification
Besides being one of the new and looked after credentials for IT industries, CEH certification includes benefits such as techniques to be able to find hackers and also be morally approved for such tasks, hence more sought after. Systems of everyday networking can be learned along with being able to apply for top security positions, which have a very handsome pay. Some of the skills developed through CEH certification involve undertaking, preventive, corrective and protective countermeasures to safeguard systems against hacking attacks, comprehending the terminology, stages, classes, phases and methodologies of ethical hacking, understanding cryptography, having the ability to crack various compositions of passwords, understanding common cyber attack schemes, etc. CEH certification also has other unique benefits such as the thrill of the task, the ability to control technological platforms, etc.

Process of Application
The individual to appear in this exam can prepare in two ways, through taking CEH training or through not taking any prior training. In the latter case, the individual will have to have a good knowledge of computer system basic hacking or procedures related to hacking, for at least a year. Proper training is a must for the exam. The individual has the register to sit for the exam through this site, and the rest of the details are mentioned in its page itself.

Job Opportunities
The job prospects and career opportunities include,
- Health Information Technician
- System Development and Management
- Security testing professional
- Network Administrator
- IT security specialist
- Technology Manager
- IT Project Manager
- System Analysis and Design

There are quite a few career paths when it comes to utilizing the CEH certification, but usually, individuals prefer taking multiple courses along with this course to get enhanced opportunities. These courses include CompTIA – Security+, Cisco Certified Network Associate (CCNA), etc.

How to Open VCE Files
Use VCE Exam Simulator to open VCE files.