Oracle Oracle Cloud Tests
Certification: Oracle Cloud
Certification Full Name: Oracle Cloud Certification
Oracle Cloud Exam Screenshots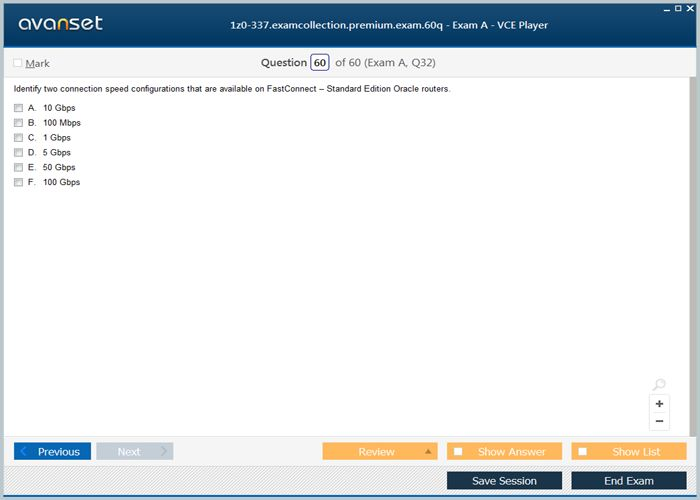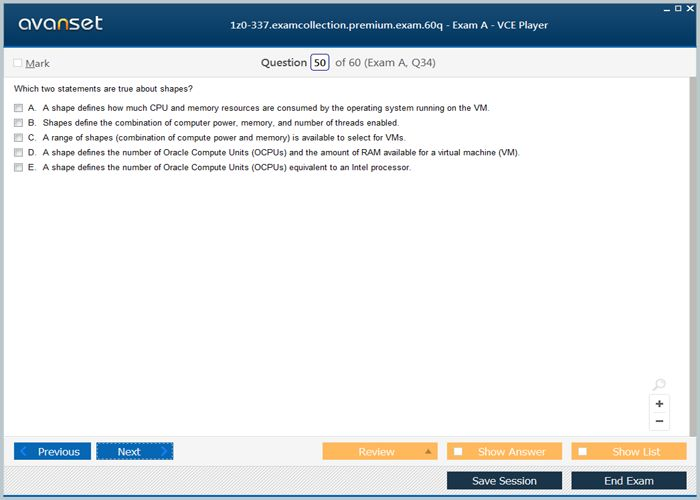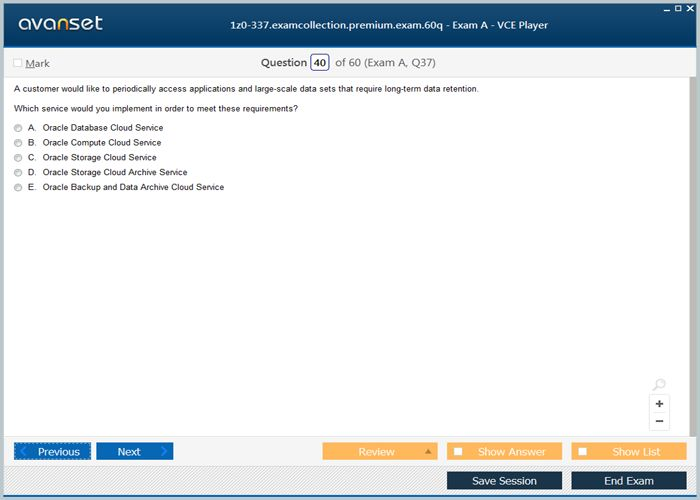 Oracle Cloud VCE Files

| Exam | Title | Files |
| --- | --- | --- |
| 1z0-028 | Oracle Database Cloud Administration | 2 |
| 1z0-160 | Oracle Database Cloud Service | 4 |
| 1z0-161 | Oracle Java Cloud Service | 4 |
| 1z0-320 | MySQL Cloud Service 2018 Implementation Essential | 3 |
| 1z0-324 | Oracle Taleo Recruiting Cloud Service 2016 Implementation Essentials | 2 |
| 1z0-325 | Oracle RightNow Cloud Service 2016 Implementation Essentials | 4 |
| 1z0-330 | Oracle Fusion Workforce Compensation Cloud Service 2016 Implementation Essentials | 3 |
| 1z0-337 | Oracle Infrastructure as a Service Cloud 2017 Implementation Essentials | 5 |
| 1z0-346 | Oracle Mobile Cloud Service 2016 Developer Essentials | 2 |
| 1z0-347 | Oracle Order Management Cloud 2017 Implementation Essentials | 4 |
| 1z0-348 | Oracle Manufacturing Cloud 2017 Implementation Essentials | 3 |
| 1z0-349 | Oracle Eloqua Marketing Cloud Service 2017 Implementation Essentials | 3 |
| 1z0-443 | Oracle Taleo Learn Cloud Service 2016 Implementation Essentials | 2 |
| 1z0-477 | Oracle Responsys Marketing Platform Cloud Service 2017 Implementation Essentials | 2 |
| 1z0-500 | Oracle Management Cloud 2017 Implementation Essentials | 3 |
| 1z0-961 | Oracle Financials Cloud: Payables 2017 Implementation Essentials | 4 |
| 1z0-962 | Oracle Financials Cloud: Receivables 2017 Implementation Essentials | 3 |
| 1z0-963 | Oracle Procurement Cloud 2017 Implementation Essentials | 4 |
| 1z0-964 | Oracle Project Portfolio Management Cloud 2017 Implementation Essentials | 4 |
| 1z0-965 | Oracle Global Human Resources Cloud 2017 Implementation Essentials | 4 |
| 1z0-966 | Oracle Talent Management Cloud 2017 Implementation Essentials | 3 |
| 1z0-969 | Oracle Payroll Cloud 2017 Implementation Essentials | 3 |
| 1z0-970 | Oracle Sales Cloud 2017 Implementation Essentials | 2 |
| 1z0-972 | Oracle Product Hub Cloud 2017 Implementation Essentials | 2 |
| 1z0-976 | Oracle CPQ Cloud Service 2017 Implementation Essentials | 2 |
| 1z0-982 | Oracle Enterprise Planning and Budgeting Cloud Service 2017 Implementation Essentials | 4 |

Comments
* The most recent comments are on top.
---
vuyanzi
South Africa
Aug 09, 2018
@naisbu, i used during my preparation and i passed easily....u can also try other prep materials for oracle cloud
---
sepetu
United States
Aug 02, 2018
@okari, u will ultimately be demoralized with the questions you gonna meet in the exam ....use several oracle exam dumps to get familiar with them
---
nasibu
who has used oracle cloud braindump and found a great relief????
---
joho
@okari, do not lie to yourself pal...attending to a training is very neccessary since oracle cloud exam questions are meant to just sharpen what you have learned in the training...nothing big with it
---
kyalo
i passed the exam and am now the cloud computing specialist in my company....plz be careful with everything u are doing...use oracle practice tests..and you will pass the exam without doubt
---
okari
suppose i have not trained....can i use the oracle prep materials and still pass the exam....
---
kaprote_jaz
@pkoech, have a look at the various oracle dumps that are designed for different exams....when on the exacollection.com ....u cant lack the best materials my brother
---
naswa
great!!!!all the oracle questions and answers that i used during my revision were repeated during the main exam.....i can't wait to see how i will excellently perform
---
pkoech
can someone share various oracle premium files....they are very useful at this moment....the ideal thing after training...
---
talam
one of the major certifications that we should not leave behind in our career is oracle cloud certification.....it focus on the current techniques that has been implemented in the cloud computing arena
---
john
United States
Jun 29, 2018
heey,,are you looking on how to use oracle vce files???? sign up for free demo and you gonna learn how it works perfect


Oracle Cloud Certification Facts
Cloud, cloud and more cloud. Cloud computing has become the new buzzword in IT circles, and the world, with good reason too. Cloud computing promised to revolutionize storage and how we would be accessing our data and it did, astronomically so. Traditionally, everything we needed was to be stored in the user's computer, but with cloud computing, you have access to data outside our computing environment.

Description
Oracle Cloud Certification offers you a seat on the next generation cloud services bus that they are driving into the future. Developers, architects, administrators and all IT specialists are encouraged to take on this certification. Here the categories of Oracle cloud certification:

1. IaaS
There is the IaaS, or Infrastructure as a Service in full, which will help you address growing business needs in your company, as infrastructure would cater to. Basically, IaaS certification will validate your prowess and skills in running workloads in the Cloud and equip you with infrastructure capabilities. This will make you an indispensable asset for your company as you would have the ability to extend and maintain infrastructure.

2. PaaS
The other path is Platform as a Service or PaaS. This certification is the next level in the Oracle Cloud Certification path and it builds on IaaS. PaaS gives you invaluable knowledge and insights on numerous cloud platform technology- be it Database, Java, SQL, you name it. Skills learned in IaaS will be enhanced to the skills of a professional who will be able to rapidly build and deploy applications critical to their business in the Cloud for scalability and efficiency purposes. PaaS certification will also enable you to extend these applications to suit any emerging need as your business sees fit.

3. SaaS
The final path is Software as a Service (SaaS). This is the most varied of the three as it touches on 4 of Oracle's core services. One can choose any of the following core services
(i) Oracle Customer Experience Cloud- focuses on customer management- services, sales, and marketing. It also involves the Oracle Performance Management Cloud. As the name suggests, it deals with aspects of performance management such as performance reporting, enterprise resourcing, and budgeting as well as financial consolidation.
(ii) Oracle Enterprise Resource Planning Cloud- equips the holders with project management, procurement and risk management and financials, just to mention a few.
(iii) Oracle Human Capital Management Cloud- deals with human resource aspects of payroll, talent acquisition, management and workplace rewards.
(iv) Oracle Supply Chain Management- deals with order management, data management, and supply chain logistics are skills gained efficiently.

Job Opportunities
- Cloud Engineer
- Database Administrator
- Oracle Cloud Computing Tutor

In conclusion, cloud computing is already taking over the IT and business industry. The only way to remain relevant in your place of work is to get certified. Be certified today and enjoy the benefits of Oracle certification tomorrow.

How to Open VCE Files
Use VCE Exam Simulator to open VCE files.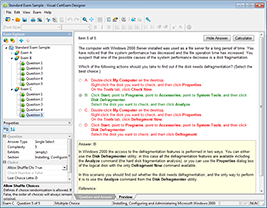 Oracle Oracle Cloud Training Courses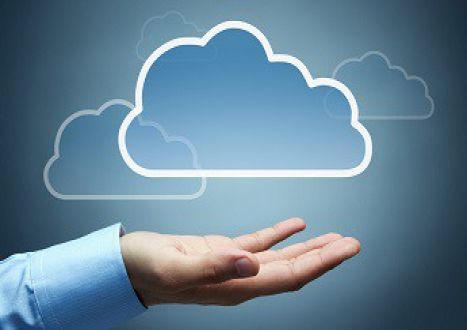 1z0-347: Oracle Order Management Cloud 2017 Implementation Essentials